Am I another Goliath or another David?
December 10, 2017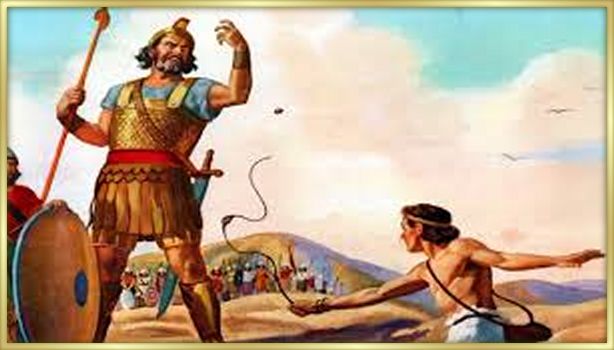 Goliath roared these words at David, the Shepherd Boy
"Am I a dog" he roared, "that you come at me with a stick?" And he cursed David by the names of his gods "Come over here and I'll give your flesh to the birds and wild animals." (1 Samuel 17:43-44)
David shouted in reply and so do I!
"You come to me with a sword and a spear, but I come to you in the name of the Lord of the armies of heaven and of Israel – the very God whom you have defied. Today the Lord will conquer you and I will kill you and cut off your head; and then I will give the dead bodies of your men to the birds and wild animals, and the whole world will know that there is a God in Israel! And Israel will learn that the Lord does not depend on weapons to fulfill his plans – He works without regard to human means! He will give you to us!" (1 Samuel 17:45-47)
The spirit of another David is in the land. Can you see yourself wearing such a mantle or can you see the mantle of another David on others? That same spirit shall roar and is already roaring through those who know Jesus Christ as their Commander-in-Chief. These individuals cannot be silenced and they cannot lose. And why? They know and call upon and believe in the God of Abraham, Isaac and Jacob to defeat the warlords of this world. These warlords depend on technology, human wisdom, human strategy, and human strength. By doing so they have already signed their own death certificate and the death certificates of their underlings. History proves that it has always been that way. These warlords fight amongst themselves for dominance. Their evil and control reigns for only a brief season. The God of Abraham, Isaac and Jacob reigns forever. Alleluia!

We will never know if there is a wimp or a warrior inside of us until we meet our Goliath in battle. We all have at least one that we will sooner or later meet and must subdue. Are you ready to meet him? Do you know his name? Do you have the courage to challenge him in the name of Jesus, the Christ like David did? Are you ready to hurl the same words at Goliath that David did? Know this, it is better to die in battle than to be paralyzed and imprisoned by fear.

Am I a wimp or am I a warrior? The last battle is at hand. There was a last battle that Jesus fought in the Garden of Gethsemane and there will be a "last battle" for you and me. Don't get ready, stay ready. Be on guard and stay dressed for battle. Stay alert. Stand tall. Don't wimp out. Ask yourself these questions, "When the enemy comes in like a flood, do I rush to the phone or to the Throne of God (The Word of God)? Do I know the voice of my Commander-in-Chief or do I even have a Commander-in-Chief? To whom have I pledged my allegiance or have I been guilty of splitting my allegiance between many different gods?"




Definition of a Warrior




A warrior is a Father-pleaser. He has acknowledged his sins and has made restitution wherever possible. He has bridled his passionate, unruly human nature. A warrior has submitted to and obeys Jesus Christ as his supreme commander. A warrior knows his place and purpose in God's army. He has been trained and knows how to use the weapons of warfare. He keeps his powder dry until he is called into battle. He knows the Word, trusts the Word, and is able to hear God's still, small voice. He does not compromise what God says. A warrior knows who the enemy is and how he operates. He knows that the enemy is not made of flesh and blood like ordinary people (Ephesians 6:12). A warrior knows that Jesus in him is greater than any of his enemies; and that Jesus in him has defeated every enemy, including death. A warrior has no fear, except the fear of the Lord. A warrior knows that the battle is the Lord's, the victory is the Lord's and the glory is the Lord's.

I herewith challenge every wimp to become a warrior. I challenge every warrior to become a greater warrior. My God is ready to undergird you in this process of transformation if you call upon Him. Go forth and confront the enemy within and without. Begin by examining,
challenging, and confronting your own wimpy, self-pleasing, and man-pleasing nature. Take all your pets that have turned into pests and shoot them. Then and only then are we allowed to confront others and can we recapture the land the enemy has stolen. Be done with every sexual and carnal sin and do not tolerate them in your family, your church, your community or your schools. If your church or school continues to condone or wink at any type of carnal sin, as so many do, withdraw your support. Without your finances, without your membership, without your attendance, without your applause, no church, school, company or country can exist for very long. By withholding your tithes, offerings, presence and presents, you are automatically voting for reform. Many churches, many schools, many homes are not safe. We are only safe, secure and victorious in the arms of our Bridegroom and underneath the banner of our Warrior King Jesus.

In the heart of every mature child of God there is a place reserved for God's righteous anger. We cannot be a crusader, we can never be an overcomer, we will never wear the mantle of another King David unless we invite the Lion of the tribe of Judah into our hearts and allow Him to roar and reign through us. Invite Him NOW and be done with fear and procrastination. You see, the Lion of the tribe of Judah is another name for Jesus. (Rev. 5:5)



Peter standing at Lake Pagosa with the Lion and Lamb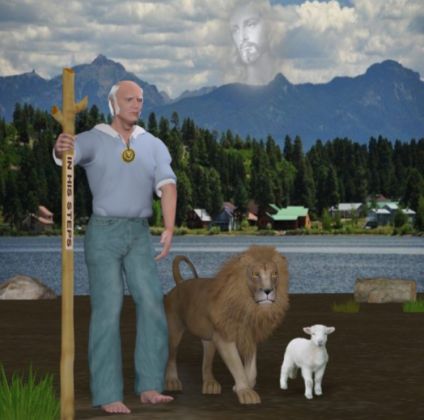 A primer for killing giants – click on picture






---


Sitemap | E-mail Us | Contents


All writings by Peter, the Lord's Scribe and Storyteller and all paintings by Rebekah, the Lord's artist are copyright free.