Next to my computer keyboard is a pinecone that came from the grave of John G. Lake, a healing evangelist who left his foot prints on many lives including mine. In fact, I was so touched by his life that I typed 15 of his sermons word for word: "The John G. Lake Sermons on Dominion over Demons, Disease and Death." You are welcome to ask for an e-mail copy.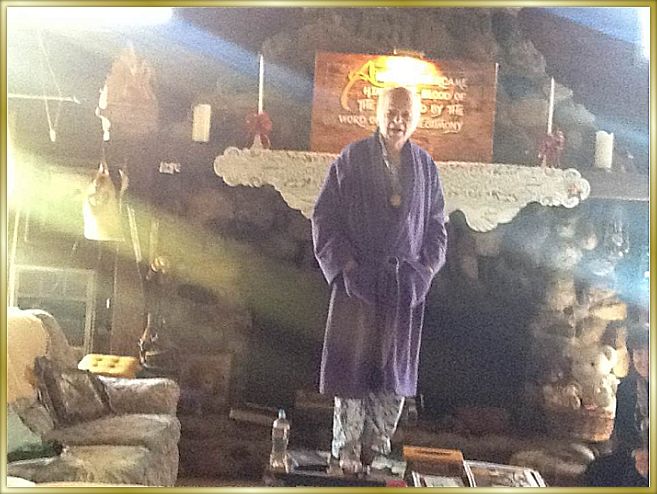 From time to time I take the pinecone in my hand. I do this when I am asked to pray for those who knock on our door or call us with hearts filled with pain. At that point I often jump on my prayer warrior pulpit – pinecone in hand. In Jesus' name I hurl my warfare prayers at the powers of darkness – fear, anger, confusion and despair. My prayer pulpit is the coffee table that stands in front of our fireplace. My weapon is my heavenly prayer language, the name of Jesus and the Word of God.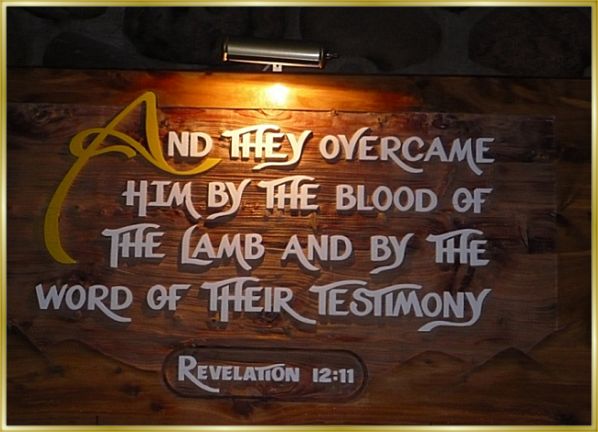 A host of unusual and supernatural events recently surfaced when a friend called from Arizona. My handmaiden Rebekah and I both picked up the phone. In order to hear our friend's heart, we had to listen hard and with our hearts. We spotted pockets of fear and confusion and asked if we could pray for him. He readily and gratefully agreed. We had been friends for many years. He trusted and loved us and we trusted and loved him. And then I saw myself reaching for the pinecone. I pictured myself squeezing "the hell out of it." My hand became His hand. I pictured his heart as a pinecone that needed cleansing and healing. I asked, "Will you allow us to proceed along the lines God showed me and pray for healing and deliverance from fear and confusion?" He eagerly agreed. I squeezed the pinecone as hard as I could. I used my heavenly prayer language as my battle axe, something I do quite often when someone asks us to pray. Rebekah joined me in prayer until everyone knew we had broken through. Then I released my grip on the pinecone. It acted like a sponge that had every bit of dirty water squeezed out of it. Then I reached for a vial of anointing oil that was sent to us from Israel by our friend Yvette. The name of the oil was appropriately called "Lion of Judah." I generously doused the pinecone while at the same time picturing it to be symbolic of the heart of our friend. I saw his heart restored and filled with holy boldness, confidence, victory and joy. The presence of God filled our home and hearts. There was that noticeable shift in the atmosphere. And had our phones not run out of power, we would have continued to visit and celebrate a lot longer. We were all changed as we experienced the anointing of the Holy Spirit destroy yokes and break bondages. But there is more to the story. And there is no doubt in my mind that this story will have ripple effects wherever and whenever it is read, told and reenacted.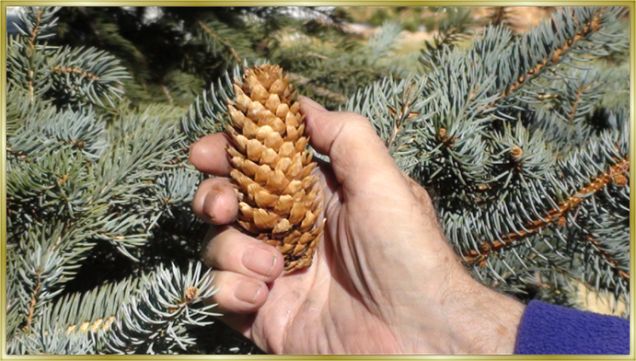 A few weeks later I was raking pine needles that our huge Ponderosa Pine sheds every Spring and Fall. Next to it are several Blue Spruce trees that we had planted some 30 years ago. They are now at least thirty feet tall. I noticed a number of pinecones that the Blue Spruce had shed, picked them up and placed them in a gallon Ziploc bag, quite unaware of what future use the pinecones might serve.
And then, just a few days later, I was reminded of these prophetic words spoken over us and our home on August 15, 2010 by our friend Pam Valcik:
"My son, I am so pleased with you; I love you so much; you delight my heart for you have followed me where I have led you and sought my heart with diligence. This property is anointed by me and I am bringing you to new levels in the spiritual realm. You are my general indeed and you carry my sword of authority.

"I have called and assigned an angelic host of mighty warrior angels with warring horses that surround and protect this new anointing I have placed on you. I draw a ring of protection around and above you and call my peace into the very property. - You indeed give me great joy!"

What I saw in the spirit: Huge angels the size of the Empire State Building linked together with shields like a dome with warring horse angels that were ready to protect with full authority.
After being reminded of these words, the Holy Spirit showed me that every pinecone that I had picked up is invested with healing virtue and deliverance equal to the one that came from the grave of John G. Lake. These words streamed through my spirit, "Peter and Rebekah, your home and the grounds are sacred, sanctified and set apart. The pinecones come from my heavenly ammunition depot and pharmacy. Share them with confidence and joy, but only as I direct." I have duplicated the prophetic act with one friend; but in time, I know there will be others who will be healed and liberated.
My friend Gary Creason suggested that I include this story and a pinecone with some of the Frisbees that are being scattered far and wide. I know that the Holy Spirit spoke through Gary. I have wasted no time to pen this story and package up some Frisbees. One foot is already out the door and on its way to the post office.
To God be the glory!