Frisbees for Jesus
July 26, 2012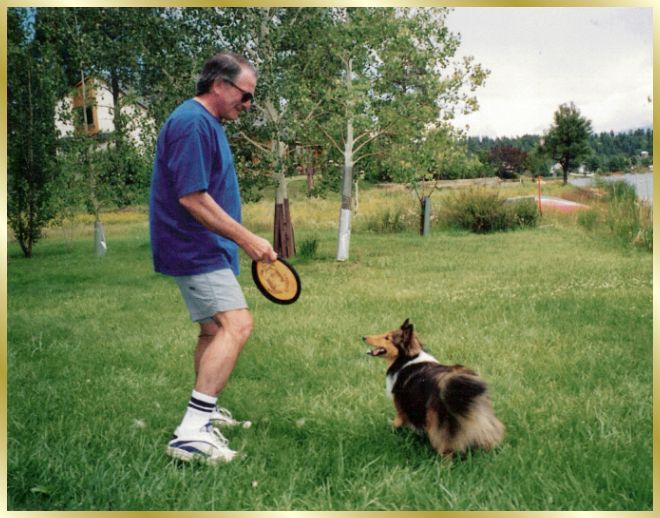 Our friend Carlos playing Frisbee with our sheltie named Bonnie wee Lassie of Pagosa
This might be one of the most unusual stories I have written. I will start out by saying, "I am a man of war and love my job." I am also a man of peace and love my job. The weapons of my warfare are not carnal; but they are mighty and pull down the strongholds of the enemy. Gideon caused confusion and chaos in the camp of the enemy. He was accompanied by 300 fearless men who carried torches, trumpets and clay pots. The weapon of choice for me at the moment is "Frisbees." These Frisbees will look approximately like this: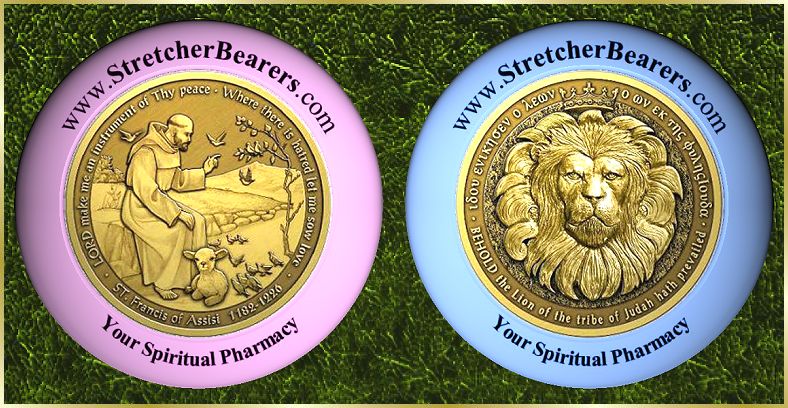 At the moment, these weapons of warfare are in the design stage, but what is pictured here is very close to what I will shortly be holding in my hands with the help of God and yours. I know beyond a shadow of a doubt that they will travel in every direction of the globe. They have already started to travel. They will be escorted and directed by warring and ministering angels. The anointing on these flying saucers will break the yoke of bondage (Isaiah 10:27).

When God tells me to do something, I don't ask for a second opinion. None of us should as long as we know that God is doing "the telling." He told me to create these Frisbees. A few years ago Jesus asked me to print 100,000 wallet size warfare prayers and I did. Go to: Who Will March with Me?

You are invited to partner with us. How many Frisbees would you like? Your involvement in this project can be large or small or not at all; but if you would like some, let us know how many. The more we order at a time, the better a price we will be able to get.

The idea for this project was birthed in our living room on Saturday, June 25, 2011. We had just received 200 coin-size medallions from Northwest Territorial Mint with the above images. When we opened the box under the gaze of a dozen curious and interested spectators, one lady burst out with these words, "I see angels in the room reaching into the box, taking out the medallions and playing Frisbee with them."

Those words were etched into my spirit. They were branded onto my heart. They were to become my marching orders a year later. Like a seed waiting for the right moment to germinate, they fell asleep for a season. But one day, after receiving a letter from our friend Barbara, the seed burst into life. Barbara included as part of her letter a short video of a recent Frisbee championship game filmed on a beach in Italy. Her youngest son Alec was one of the players. That video reminded me of the angels in our living room. And now I am being compelled to translate the vision into reality. A year ago I had an idea; now the idea has me. I am the prisoner of another exciting project. In fact, I have already zeroed in on a company that can create the Frisbees.

It would be helpful at this time for anyone further interested or just curious to reacquaint themselves with two epistles on our website that explain the purpose and power invested in the two-inch diameter medallion. Go to these two links: My Legacy and The Lion of the Tribe of Judah Saga.

I recently made two Frisbees by superimposing the Lion of Judah image on the top so that I could explain and show the project to friends. In fact, anyone walking through our front door gets buttonholed and shown the Frisbee and told the story. What sparked my enthusiasm and placed this project on the front burner are recent remarks by our friend Stan. He said, "I can see members of our youth group going about town throwing Frisbees into driveways just like I used to throw newspapers." And as he said this, he went through the motion of flinging an invisible newspaper/Frisbee into an imaginary driveway.

A few days later I presented the idea to our friend Gary who is an elder in a local community church. His eyes sparkled as his spirit came alive. He said, "I would like to present the idea to our youth pastor. Can I borrow the model Frisbee?" And then our friend Greg, a Jicarilla-Apache Indian from nearby Dulce, New Mexico said a few days later, "I wished I would have had some of these Frisbees last week. Our tribe just celebrated its annual Little Beaver Festival with floats and all. Kids riding on these floats would have loved to toss some of the Frisbees into the spectator crowd.

My enthusiasm is mushrooming. It is time to toss the idea into cyberspace and let angels take it where it is supposed to land. I can no longer hold back the excitement that has bubbled up in me. The idea is being fueled by a variety of affirming responses. The last few nights the project has robbed me of sleep. That's par for the course for my personality.

Anyone who wants to get in on the ground-floor of this project, please contact us as soon as possible so that we can get the ball rolling and place our first order. These Frisbees will be like firebrands tossed into a very dark and chaotic world. They are weapons of warfare. They are like flying saucers from another dimension – heaven!

The power – the anointing on these Frisbees will expose and cancel out the darkness in the land. It will also set captives free – captives of fear, rage, greed, lust and pride. Yes, a little piece of round plastic with the breath of God upon it will defeat the enemy that has tried to strangle our souls. Those who see and handle them as a gift from God will be liberated and in turn will be used to liberate others. These Frisbees will descend from the sky like heavenly paratroopers because angels will escort them to their designated targets. They will also descend behind enemy lines where prisoners are languishing in dungeons of despair. They will be like that smooth stone hurled at Goliath by the shepherd-boy David.




Many keep asking, "But what can I do to hasten the Day of the Lord to arrive?" I believe we all have a need to do something but are not always sure what, where or when. The Holy Spirit will guide us but only if we ask. The true sons of God are led by the Spirit of God. Do not do anything unless you first ask the Father. That is what Jesus did. He said, "I only do what I see the Father doing." I am asking Him to show every Believer who reads these words to get a clear revelation of where they fit. Via these words I am inviting others to become a part of the "Frisbees for Jesus" battalion. Warriors, get dressed for battle. Let's give Satan a run for our money - the money, the health, the peace and the joy he has stolen from the children of the God of Abraham, Isaac and Jacob.

Our dog Bonnie loved playing Frisbee. He is now in "doggie-heaven." Who knows, maybe he is cheering right now and barking "Go for it, Peter"? Just as a cute aside, some dogs prefer to run after tennis balls. Maybe one day someone will be inspired to use tennis balls as cannon balls? There are many more creative ideas waiting to be executed. Lord, may this project give birth to some of them.

Every Believer who knows that Jesus is God is invited to participate. Jesus said, "If I am lifted up, I will draw all men unto myself." Let's lift up Jesus. Let's do it together. Let's do it all the time.

May I recruit you to throw a Frisbee into every driveway or every other driveway? May I recruit you to play Frisbee with your friends, your dog, and even your enemies? It's the ultimate game where everyone wins except the devil.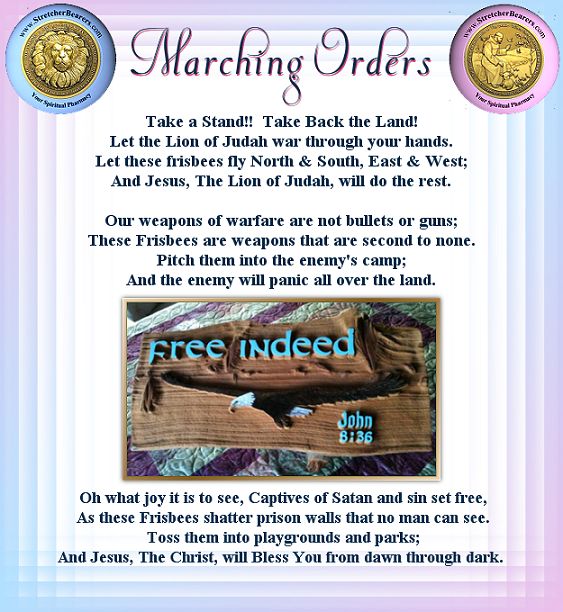 To God be the glory for every victory and every captive liberated!


Peter & Rebekah Laue
Pagosa Springs, Colorado






Sitemap | E-mail Peter and Rebekah | Guestbook


All writings by Peter, the Lord's Scribe and Storyteller and all paintings by Rebekah, the Lord's artist are copyright free.