These last few days have been strange, wonderful and other-worldly. As I was trying to explain to Rebekah what I was feeling, the words "Holy Moments" came to me. Let me explain. Maybe this letter to you will give birth to another story for my treasure chest.

Let me set the stage for this story. A number of things collided to give birth to what flows out of my heart to yours.

It began on Father's Day. My friend Jeffrey from Amarillo called to wish me a happy Father's Day. He is like a spiritual son - a lovely and strong man of God. In fact he is one of God's Gideon soldiers. As he and I visited over the phone, the Lord granted him a vision. He showed Jeffrey a heavenly and very heavy vault door. This door was perfectly balanced on hinges and could be opened and closed effortlessly. Jeffrey saw that I had been given permission to enter the vault and take precious golden, glowing bars that were to be given away. God showed him that the Lord had groomed me with wisdom and restraint so that I would give these treasures to the right person, at the right time, and in the right amount.

The spirit within me cried "AMEN" as he described what he saw. I was so happy. I felt so loved by my heavenly Father. It was as if He was smiling when He looked in my direction. A few days later we had our friends Bob and Dawn over for supper. Bob remarked quite spontaneously, "Peter & Rebekah, your home is like Ft Knox. It is loaded with spiritual treasures." That was like putting a double knot on the vision. It was now secure in my heart.

We visited some more around the dinner table and then escorted Bob and Dawn to the door. I said to Dawn, "Would you like one of those golden bars from Ft Knox?" She replied with an excited "YES." As I placed one of them into her open hands, the Holy Spirit washed over both of us. This indicates to me that the Lord was present and had heard and answered my prayer.

Well, that is not the end of the story. Two days after we celebrated Father's Day, I drove to the Durango airport to pick up Roxanne, a young woman who came from Florida to get answers from Jesus in the Upper Room. When we got to the car, the left front tire was completely flat. It was very hot and I was not very organized. In the process of trying to change the tire, I broke the jack and had to call a road service to change the tire. When I tried to get the tire fixed, I learned that it was not fixable. I wound up having to get four new tires – an unexpected expense of $400. I panicked. I kicked myself three times around the block for breaking the jack and having to call a road service. I also was totally unaware that I must have driven long enough on the flat tire to ruin it.

The Lord provided the $400 through unexpected channels. One of these was an unexpected gift of $250 dollars from Roxanne. The balance was sent to us by our dear friend Sarah who lives in Houston. I just wrote her a thank you note; and that is when I first caught the title for this story - "HOLY MOMENTS." These gifts were like a cool drink for a man who had tried to cross a treacherous and hot desert. It was the right amount, at the right moment given to us with much love. It was like a cool drink given to a man dying of thirst.

I am not exaggerating. We all know that when our wallets are completely empty and fear tries to devour our soul, help in that area is like a cool drink. For any gift to have the "earmarks" of heaven, it always arrives at the most crucial moment, and sometimes via a most unusual delivery system. I recall the time when the amount we needed to pay our mortgage was delivered to us by a friend who paddled across the lake in a canoe.

I was suddenly reminded of the many Mexican laborers trying to cross the border into the United States. Those who choose to come through the desert areas of Arizona and New Mexico put their lives in great jeopardy. Some of them never make it and died of thirst. Just one cup of cool water offered in the name of Jesus can make all the difference in the world. And then I saw in my mind's eye the many who are spiritually, emotionally, and financially destitute and at a point of despair - their souls screaming for answers and relief. And then I saw how a few words of encouragement, affirmation and genuine love offered at the right time can save these souls from extinction and despair. And I heard the Lord saying, "Remember the golden bars in the heavenly vault? I want you to distribute them in the name of Jesus."

"But how do I go about doing that, Lord," I replied. And He answered,

"My son, you have been doing it all along by sharing the stories you have in your treasure chest. These are the treasures I have entrusted to you. I have not given you gold and silver to give away; I have given you precious stories. As you tell them, my children who are without hope and strength, will be encouraged and my Son will receive much glory."

The most recent of these stories is so very precious. I wished I could tell it to everyone, but I am not allowed to do that. The Lord points out to me very clearly when, how, and to whom to deliver these stories to, these cold cups of water. It's as if He lets me look in the Lamb's Book of Life and find the right name at the right moment. That is where I got your name and address.

He asked me to create a 5"by7" greeting card and put the below picture on the front and words from a devotional book on the back of the card. He also told me to make each card personal by writing the name on the front of the card. On the inside of the card I am to write words in my own hand. Jesus wants every person to know that he or she has a special place in His heart. He has not created generic words or people. Every person is different and needs to hear a different story.

So here I am, the Lord's courier, delivering words from His heart to yours. O, how I love this job! Your card, dearest Ann, I have been asked to deliver into your e-mail letter box. Maybe you know someone who will be encouraged by the picture and the words. I know that the Lord lets you look in the Lamb's Book of Life. You have such beautiful ways of encouraging the saints.

Peter
Jesus' Courier

JESUS IS "NUTS" ABOUT
ANN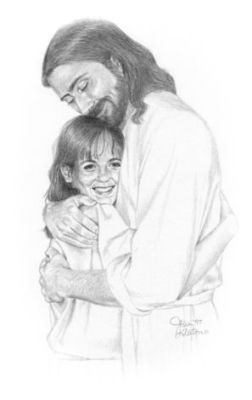 EVERYTHING ELSE IS A L I E !



A HEAVENLY WARDROBE
Isaiah 61:10
Child, you are clothed in My righteousness. You are arrayed in a heavenly wardrobe. There are no other garments like them. Indeed, My righteousness is beautiful. O loved one, you are adorned in My beauty and majesty. You are adorned from the top of your head to the bottom of your feet with beauty and grace. You are adorned in splendor with the garment of My righteousness.
Child, there are many garments that make up the wardrobe of My splendor. There are the garments of praise, worship, holiness, joy, peace, love, and the garment of loveliness. And there is so much more.
O beloved, I provide you a complete wardrobe full of splendid apparel. The garments are beautiful and exquisite. I have made them especially for you. They are tailor made. They are made for royalty, and I share them freely with you.
Child, there is a garment for every occasion, for every activity, for every circumstance, for every work, for every difficulty, for every trial, for every field to plow, for every race to run, and for every walk there is to walk. But dear one, there is a choice. There is a selection process. You can choose to wear, or you can choose not to wear the garments of My wardrobe. But I urge you to put them on, for there is no other like them. They do not fade or wear out, but rather, become more beautiful with use. And they last forever.
Beloved, they are all there. O, wear them with dignity, for you are a king and a priest. Yes child, I clothe you in the garments of My splendor, and in the beauty of My righteousness. So, wear and enjoy.
Excerpt from: "No Better Place Than in the Center of His Presence," page 218 by Bob Pangburn