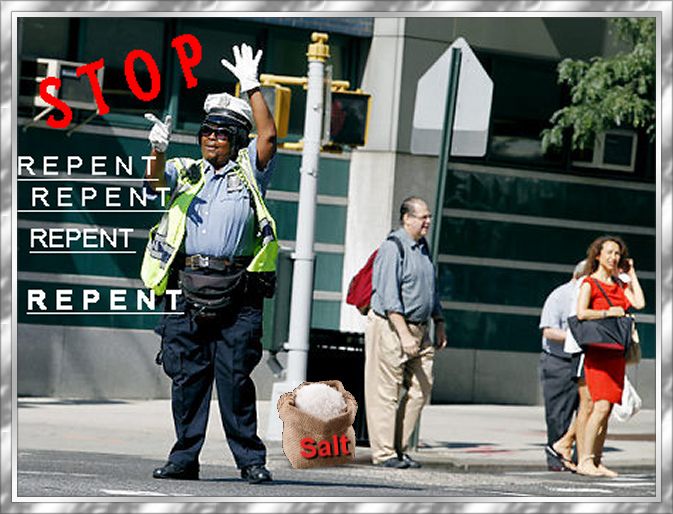 (Dancing Manhattan traffic cop Mentoria Hutchinson has moves to keep cars rolling)



"In the last days," God said, "I will pour out my Holy Spirit upon all mankind, and your sons and daughters shall prophesy, and your young men shall see visions, and your old men shall dream dreams." (Acts 2:17)





Twenty years ago this writer had a provocative and prophetic dream!
He was standing on a traffic island. He had poured a sack of salt all over the island. Gusts of wind were picking up the salt and blowing it across several lanes of traffic into a large parking lot. It was not clear if the parking lot was intended for a shopping center, a church, or both. The writer saw himself acting as a traffic cop, raising his hand toward oncoming traffic and shouting, "REPENT, REPENT, REPENT." Some of the cars stopped, people got out, knelt on the street and repented. Most of the cars, however, went right on by as if the driver did not hear or see the traffic cop. This went on for quite a while until the traffic cop was so exhausted, he was unable to speak the word "REPENT" one more time.

The salt that this writer scattered on the traffic island and that is being blown by the wind of the Holy Spirit in many directions is this prayer:


Lord Jesus
Make Me an Instrument of Thy War
Let everything that is hidden be revealed!
Expose all hypocrisy, especially that
which Is hidden in my own heart.
Expose all rebellion, which is as the sin of witchcraft.
Expose all pride, that subtle monster who
hides in most of us.
Expose the greedy who exploit the needy,
and the strong who oppress the weak.
Expose all lust that masquerades as love,
and begin within me.
Expose and tear down every man-made
idol of success and self-gratification.
Expose Satan, the accuser of the brethren,
who tries to hide in all of us;
And Lord Jesus, be the advocate for all
who have been falsely accused.
Lord, vindicate the insane who have been
judged without a jury; and begin with me.
And Lord, then let the Lion of the Tribe of
Judah roar through me!
| | |
| --- | --- |
| THE Gates of Hell Shall Not Prevail | THE SWORD OF THE LORD – STRONGHOLDS ARE COMING DOWN |


Is there anyone who wants to be a traffic cop and scatter the warfare prayer as if it was salt? If we can see ourselves doing it, we can do it. If we can see ourselves doing it, we are called to do it. The prayer is printed on the back of paintings by Rebekah Laue, Peter's handmaiden and the Lord's artist. Many of these cards have already found their way into prisons. One friend who has an awesome prison ministry told us, "When I come with Rebekah's paintings, the prisoners stretch out their hands as if I was feeding piranhas."

A handful of wallet size cards will be mailed to those who ask for them and write to the address provided at the end of this letter. Please include stamps for postage. For one-hundred or more cards we ask you to be generous and include a gift to help cover postage and printing costs. Please specify the number of cards you would like and which image you would prefer. We will be happy to send you the graphics so that you can print your own cards.

A friend suggested that the prayer be translated into Spanish and has asked someone well-versed in that language to do so. This surely is a God-inspired idea. I jumped on the idea. We are now asking others who are bi-lingual to translate the prayer and share it in their native tongue. A copy of the translation would be much appreciated. Here is the warfare prayer translated into Spanish.


Senor Jesus
Hazme un instrumento de Su Guerra

Deje que todo lo que esta escondido revelado!
Expone toda hipocresia, especialmente eso lo que esta escondido en mi propio corazon.
Expone todo rebellion, que es como el pecado de brujeria.
Expone todo orgullo, ese sutil monstruo, que se esconde en la mayoria de las personas.
Expone la avaricia que se aprovecha de los necesitados, y los fuertes que oprima a los debiles.
Expone todo deseos que se mascara como amor, y comiense en mi.
Expone y desgarrar todo idolos hecho mano de hombres de exitos y propio-gratificacion.
Expone satanas, el acusador de lo hermanos, que se trata de esconderse en todos nosotros;
Y Senor Jesus, sea partidario por todos que son acusados falsamente.
Senor vindice el que esta demente juzgados sin un jurado, y comienze conmigo.
Y Senor, permite que El Lion de la Tribu de Juda ruege a traves de mi!




We are also searching for gifted and anointed songwriters who can set the prayer to music. What a surprise and encouragement it would be to discover the song: "LORD – MAKE ME AN INSTRUMENT OF THY WAR" on the Internet or a CD. It has been said and I believe it is so, "Let governments make the laws; but it's the lyrics of songs and melody that will reach into hearts and ultimately shape the destiny of a nation and its people." There are many who are called to worship Jesus through music and dance. Might there be someone who is prompted to choreograph the prayer for a dance team? When we worship Jesus through any artistic form of expression, hell trembles.

Our carnal weapons will fade into oblivion if and when enough warrior saints adopt, live, and proclaim the prayer. And only then will Isaiah's prophecy be fulfilled, "All the nations will convert their weapons of war into implements of peace. Then at the last all wars will stop and all military training will end." (Isaiah 2:4)

I, Peter, the Lord's scribe and storyteller, have been prompted to scatter and trumpet the prayer into the four corner of the world. Please help me. I am having so much fun doing my part to make it happen; but I can't do it alone and am not supposed to do it alone. I am having so much fun finding those who are eager and have a heart to help me. In my mind's eye I see it "done!" In my mind's eye I see an army that cannot be defeated. In my mind's eye I see the enemy crushed and under the feet of Jesus. In my mind's eye I see weapons of warfare melted down and made into plows and pruning hooks. I see "victory!" I thank Jesus for the victory. Jesus is my victory and Commander-in-Chief.

"But Lord, I don't have the money to print or the time to scatter all those prayers," I contested. Peter learned quickly and the hard way that you don't want to argue with your Commander-in-Chief when He gives you your personal marching orders. Jesus knows how much money we have squirreled away. He knows how much time we waste gorging ourselves on entertainment that pollutes our souls and defiles the temple of the Living God. We are that temple. It must be kept clean. That's our job – policing our carnal nature! The warfare prayer is not only a weapon; it is also a spiritual scrub brush. It cleanses us on the inside so that we will shine on the outside. When the enemy sees us coming, he will be blinded by the glory of the Lord – yes, he will be blinded! A blinded enemy is a confused and defeated enemy!

Who will march with me today, tomorrow and forever? Who will stand on the traffic islands of the world and shout, "Repent, Repent, Repent?" The warfare will be fierce, but temporary. The rewards are eternal. Are you ready to spoil the enemy of our souls once and for all?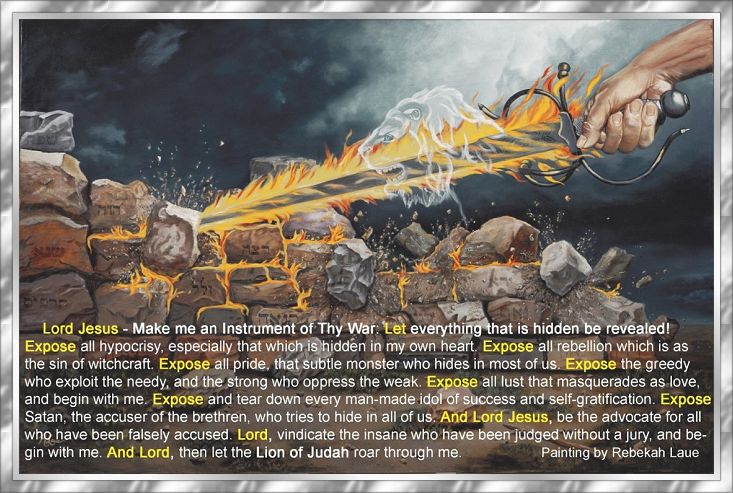 It's D-Day!



The trumpet is sounding. The Lion of Judah is roaring! The year of the LION has begun. The archangel Michael is leading legions of angels into battle. Beachheads are being established in hearts, nations, and on every continent. The battles are fierce. Who is on the Lord's side?

God's people are filled with victory. They are ready, eager, and trained for battle. Their hearts are fierce, yet full of the Lord's mercy. This army is not shooting its own or its wounded. This army recognizes the wounded and cares for them with compassion, patience, and skill. This army shall not forget those who have been taken prisoners by the enemy. Go to this web page and learn more:



Appointed and Anointed to Roar




Peter


Our mailing address:
Peter & Rebekah Laue
Stretcher Bearers for Christ
965 Cloud Cap Ave.
Pagosa Springs, Colorado 81147
USA
EMail: LukeFour18@gmail.com


Click for
Dancing Manhattan Traffic Cop Article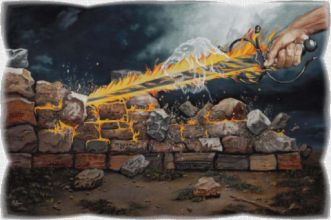 Sitemap | E-mail Peter and Rebekah | Guestbook


All writings by Peter, the Lord's Scribe and Storyteller and all paintings by Rebekah, the Lord's artist are copyright free.