"This message is sent to you by the One who is holy and true, and has the key of David to open what no one can shut and to shut what no one can open.
"I know you well; you aren't strong, but you have tried to obey and have not denied My Name. Therefore I have opened a door to you that no one can shut.
"Note this: I will force those supporting the causes of Satan while claiming to be mine (but they aren't –they are lying) to fall at your feet and acknowledge that you are the ones I love.
"Because you have patiently obeyed Me despite the persecution, therefore I will protect you from the time of Great Tribulation and temptation, which will come upon the world to test everyone alive. Look, I am coming soon! Hold tightly to the little strength you have –so that no one will take away your crown.
"As for the one who conquers, I will make him a pillar in the temple of My God; he will be secure and will go out no more; and I will write My God's Name on him, and he will be a citizen in the city of My God –the New Jerusalem, coming down from heaven from my God; and he will have My new Name inscribed upon him.
"Let all who can hear, listen to what the Spirit is saying to the churches."
Jesus spoke these words to the leader of the Church of Philadelphia through the apostle John in the Book of Revelation; but He also spoke these same words into my heart this morning while I was spending time with Him in The Upper Room. He, Jesus, said, "Peter, you have little strength, but you have tried to obey and have not denied My Name. Therefore I have opened a door to you that no one can shut." Peter had read these words many times before, but only this morning, August 1, 2009, did these words "sink into his heart" and became alive and personal for him. The purpose of this letter is to make them personal for others who may read them now or later.
Peter no longer has the strength to keep on "doing." Neither is he asking for new or more strength. The strength to do and do and do was stripped out of his soul when God took him, like an old eagle, through a season of molting. He has emerged sound, safe and different out of this season. In lieu of new strength, Jesus gave Peter new wisdom and insights so he can find the spiritual thermals that let him soar higher, farther, and with less effort. To learn about this painful and life-threatening renovation and rejuvenation, read "Molting Eagles". Maybe you are a molting eagle?
Today was the day the Holy Spirit took Peter on a guided tour all the way back to the Book of Genesis and the first Adam. He showed Peter that his personality was flawed like that of the first Adam. He showed him Abel and Cain and said, "The spirit of Cain tried to extinguish your soul; but I was there and helped you restrain the spirit of murder." He showed him the life of Abraham, Jacob, Moses, King David, Elijah, Nebuchadnezzar and the apostle Peter. He showed him both their strengths and their weaknesses. And He said, "None of these men have anything to brag about except My grace. I needed to show you their lives to burst your ego, show you My grace, and only then could I fashion the new Peter. I included their names in My Book because they repented, persevered, overcame, and walked in humility and obedience. Today each one is a grateful citizen in My Kingdom. I ransomed them with My blood. They are Mine forever."
The Lord said to the apostle Peter, my namesake, "Satan has wanted you to sift you, but I have prayed for you that your faith would not utterly fail – that you would not despair and quit the race before it was won. I prayed that when you are converted, when you repented, when you turned around, when you confessed your fear of man, when you had bridled your impetuous temperament that you would then strengthen your brethren and feed My lambs and sheep." And the apostle Peter did what Jesus told him to do.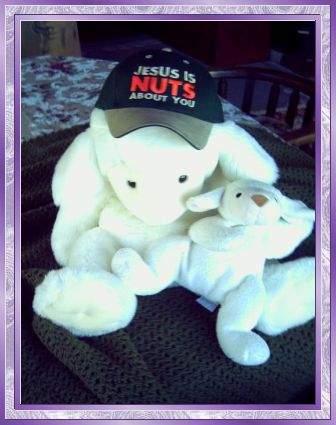 But Lord, please also tell this Peter more about feeding Your lambs and sheep. And He said, "Show them My kindness, My love, My gentleness, My grace, My patience, My forgiveness, My truth. Teach them that the fear of the Lord is the beginning of wisdom. Teach them The Ten Commandments. Let them know that I will not tolerate the woman Jezebel in their midst. Tell them why I took Saul's crown and gave it to a shepherd boy. Tell them that obedience is better than sacrifice. Show them both My grace and My severity by telling them what I did to my servant David when he committed adultery and ordered Uriah, Bath-Sheba's husband, to be killed in combat. Remind them of what I did to 70,000 able-bodied warriors because King David measured his power by the size of his army. Show them what happened to Nebuchadnezzar because he exalted himself above the Living God of Abraham, Isaac, and Jacob. Tell them that there is a penalty for sin (disobedience and rebellion); but be sure to also tell them that My forgiveness is available and a free gift to all who have a broken heart and a contrite spirit. Show them My Word and let My sheep chew on it day and night. Teach them that I am the Gate for the sheep. Teach them that I am the Way, the Truth and the Life and that no one comes to the Father except through Me."

And then I asked Jesus to show me the wolves in sheep's clothing that ravage the flock. And He did. I asked Him to teach me discernment. I asked Him to teach me the difference between the voices and ways of wolves and sheep. I asked Him to show me how to separate the goats from the sheep. And He replied, "By their fruit you shall know them." I asked Him to show me what foolish virgins look like and how they act. He did and said, "Do not give oil to foolish virgins. They must get their own oil for their lamps." Lord, you said, "Let the dead bury the dead." Please show me those that are dead in their trespasses so that I will not try to pour Your precious Life into them and waste Your grace and my oil.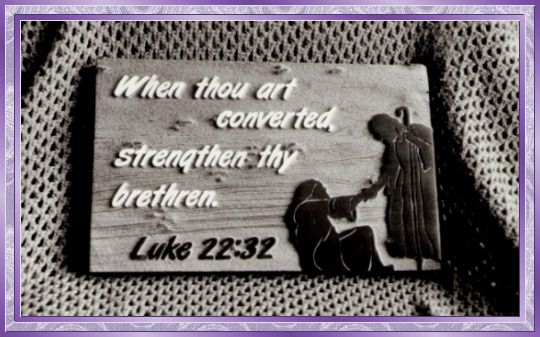 Lord, I am reminded that it pleases You when Your children ask for wisdom above all other riches. I am asking You for wisdom. I thank You for hearing my prayers and answering them. I have the confidence that You will teach me what I need to know to be a good shepherd and my brother's keeper. I have the confidence that You will never leave me nor forsake me. You said, "Lo, I am with you always."

Thank you for revealing to me today that I have a personality and calling similar to that of the apostle Peter. I have failed You like the apostle Peter; but You have forgiven me and cleansed me of all unrighteousness because I repented. Now I know who I am, what my strengths and weaknesses are, and what You have called me to do.

Thank you Jesus for revealing to me that You are "The Good Shepherd" and my shepherd. Thank you for praying for me and forgiving me. Thank You for giving this eagle new wings, new vision, new wisdom and the authority to bind and to loose. Thank You for trusting me with Your lambs and sheep. Thank You for letting me know that I am forgiven, a part of Your flock and a part of the Church of Philadelphia.

Peter – Called to Strengthen the Brethren
www.stretcherbearers.com

This is a good time to read the letters to the seven churches in the Book of Revelation, chapters 1-3. They will let you know where you stand with God and where you belong – where you are strong and where you are lacking. Click here