Original Page at Cambridge Dove Ministries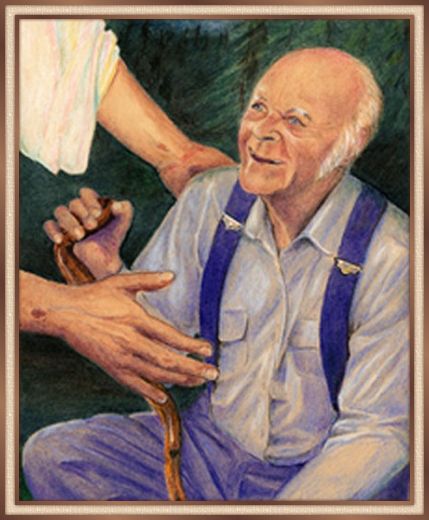 March 27, 1997
A few days ago I discovered quite "by accident" words I had spoken into a tape recorder in 1997. I was prompted to resurrected them and make them a part of my "now life." Giving these special words to you and others through you is my way of offering a cup of cold water to you who I dearly love. These words were born out of my own personal pain and that special grace of God that has kept me to this very day. That grace has not only kept me, but has caused me to walk in victory, joy, and gratefulness to this very day. It is now my high calling from God to bring others back from the edge of despair; and I invite you to help me. Please know that I think about you very often. I need you to be strong and well and always allow gentleness and kindness to rule your heart.


We have all faced those moments of terror,
Those moments we were suspended between heaven and hell,
Between life and death when pain and confusion ravaged our body and soul
And robbed us of a clear mind to make wise choices.

We have all faced those moments
When the alluring embrace of death seemed sweeter than one more moment of pain -
The water was so inviting,
The gun,
The rope,
The pills,
And the bottle promising to silence the pain and torment forever.

Whom do we trust at such a moment?
Which voice do we obey?
Shall we trust the black embrace of death
Or choose to live another day?

The voices beyond the grave have been silenced forever,
Except the voice of Jesus.
He has conquered death;
He is risen!

Our decision is like a one-way street without an off-ramp.
Death offers no more places to turn around.
There is no margin for error.
The wrong choice will fill our eternity with tormenting regrets.

Jesus stands at the door and knocks -
Even to our last moment of decision.

As the thief on the cross,
We can invite Him to come in with our last breath.
He is beseeching us - all of us to entrust our eternity unto Him.
He is calling because He loves us.
He is whispering these words into the hearts of men, women, and children everywhere.
"I am Love. I am Mercy. I am Forgiveness."

Give Him the gun and the pills and the bottle and the rope.
Trust Him to save you and turn your life around.
Don't take your life into your own hands.
Place it into His and live and do it now.
And do it now.





Both my wife Rebekah and I have stood at the edge of the abyss - our souls tormented, our minds confused, our spirits broken - ostracized by this world. And at that very last moment, Someone, Someone, Someone who spells His name with a big "J" - and His name is Jesus, reached out to us and pulled us back. And maybe someone will feel the touch of Jesus on their shoulder through these words and step back from the edge of the abyss and allow Jesus to guide them and lead them into a new life. That is my prayer.

My heart is filled with compassion for all those who live on the outskirts of society:
those who don't seem to fit anywhere -
those who don't seem to be able to compete in the human race -
those who have no mailbox -
those who have no social security number -
those who have no place they call home -
those who live in prisons -
those who live in mental institutions - and
those who live in penthouses, yet are terribly alone and in terrible anguish.
I, Peter, want to open my heart and my life and my storybook to you so that you might gain fresh hope, gain fresh insight how you, together with Christ, can win. How you, together with Jesus Christ can begin all over again.

I cannot tell you how many times I started this letter and erased it; and I am glad that it was so easy to erase my false starts. And I would like to remind you and tell you with great certainty that Jesus is able and has the great desire to erase all the false starts in your life and help you begin all over again. Oh, what a wonderful thought - what a wonderful truth. And with that in mind I would like to share with you how He has done it for his servant Peter and his handmaiden Rebekah.




June 16, 2009



Catching the rhythm of the Father's heart - yes, that is my strong need and desire. As I write to you, I try to apprehend His heartbeat for this hour.

I am easily troubled by words that initially had a pristine meaning but eventually became trite through excessive and insensitive use. For quite a while I have asked Jesus to give me a fresh revelation of the words: "Ye must be born again." And He has.

It was quite amazing what happened as I listened once more to words spoken spontaneously onto cassette tapes in March and April of 1997. After listening to them ten years later, I discovered a rare jewel.

My introduction to the first of four 90 minutes tapes was haphazard and halting. I did not read from a written page but spoke spontaneously and unrehearsed. I can't recall how many times I started over again; but it was quite a few. But finally I was satisfied and continued by reading Peter's epistles into the microphone.

In retrospect, what amazed me was how easy it was to erase my haphazard starts and start over again. And then I saw the grace of God in this. We are given umpteen chances to start over again. Peter's new definition of: "You must be born again" is "You must be willing to trash your false starts and start from scratch to enter the Kingdom of God." Without God's grace and mercy, that is impossible.

When I married Rebekah after a painful divorce, God gave both of us a chance to "start from scratch." When we moved into our log cabin home on Lake Pagosa 32 years ago we "started from scratch." When I was shown a brand new way for expressing my creativity and zeal, I was offered the opportunity to "start from scratch." When everything that defined me as a valuable human being in the eyes of others and my own eyes was removed from my life, I was given the opportunity to "start from scratch."

Yes, being emotionally, mentally, spiritually, physically and financially bankrupt gave me that awesome opportunity to "start from scratch." Viewing these terrifying moments as God's grace and not as "punishment" is critical lest we harden our hearts again Father-God and others.

Being taken behind the woodshed isn't any fun; but I am now able to see it as the grace of God. He does not want any of his children to go astray or drop out of the race; that is why He allows us to fall and fail when we are headed in the wrong direction or have entered the wrong race. With the help of Jesus and Jesus in our hearts, Rebekah and I "started from scratch." We have entered a race in which we cannot fail, because Jesus will carry us across the finish line if we do.

If you would like to listen to Peter's epistles on You Tube or read them, click on the picture.
Be encouraged - Jesus loves you just where you are - just where you are,

Peter
The Lord's Scribe and Storyteller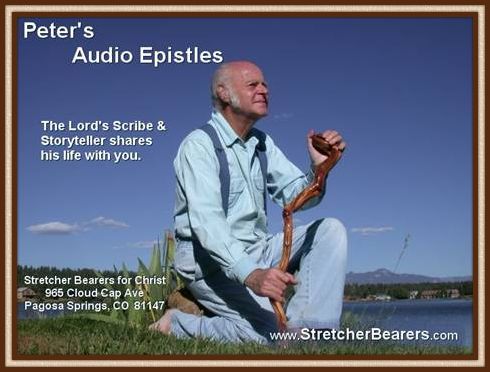 | | | |
| --- | --- | --- |
| | | |
| | | |
| --- | --- | --- |
| | | |