The saga of the Lion of Judah medallion began in the early eighties when John Curtis, president of Colorado WoodSmiths, bicycled by our home at 965 Cloud Cap Avenue, Pagosa Springs, Colorado. He had installed a number of signs for the Fairfield Company who built and managed timeshare vacation homes in Pagosa Springs at the time. John had noticed a number of sandblasted signs in our front yard and stopped to investigate. Some 30 years later John is still in the sign business and is still a close friend. The company he heads is now called John Curtis Design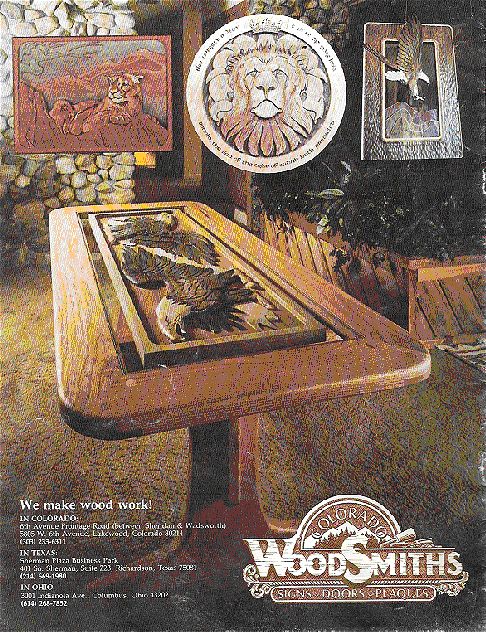 John Curtis some thirty years later with the wood carving of the Lion of Judah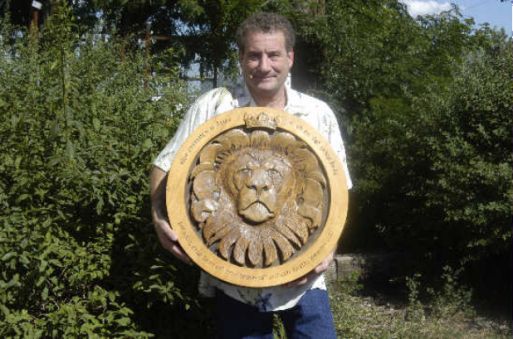 Close-up of the Lion of Judah table top – the top portion is in Greek.
The bottom portion duplicates the Greek and says:
"The Lion of the tribe of Judah hath prevailed"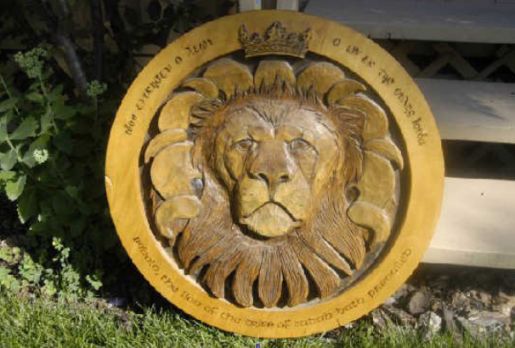 Twenty years or so later our friends John and Janna Ranson became partners in a sports rug business. Janna wanted to add a Christian witness line to the business and asked us for ideas. The Lion of Judah table top flashed into our minds. The left-hand picture (see below) is of a 30" diameter rug. It was also made into coasters and mouse pads. And do take look at one of these cute mouse pads designed by our friend Tania. I smiled when I first saw it and smile every time I see it again.

After a couple of years or so the partnership was dissolved. When we recently inquired about having some more rugs made the Ransons could not help us. We are not surprised that the company failed because the rugs were made primarily to profit pocketbooks after the partnership was dissolved. The Lion of Judah did not approve of this. He is still in control of our purse strings and everything else.
Some five years later or around 2005 our friend John Reed from California noticed the rug in our hallway and asked, "Peter and Rebekah, I can see this design made into a bronze sculpture. Would you by any chance know someone who could create such a sculpture? If you do, have one made and I'll pay for it."

It so happened that we knew such a man and liked him and his work. He also happened to live in Pagosa Springs and had his own foundry. Before very long the first two medallions were cast as we and John Reed and family watched as the hot, red molten metal was poured into the form. The process used to create the medallion is called "the lost wax process." At this point, some six years later, fourteen bronze medallions have been made. For anyone who might like one, please contact Roberto Garcia, the sculptor or this writer.
| | |
| --- | --- |
| 30" diameter sports rug | 19" diameter bronze medallion |
Maybe a year or so later our friend Guy Brooke, who lived in Naches, Washington, said he would like to reproduce the medallion using cement as the media. We happily agreed. He made quite a few and we sold some of them for him and also gave a few away. The problem was that half of them broke in transit. This was too much of a disappointment and expense. Guy stopped making the medallions and sent us the mold. A little later he also sold his garden art statuary art business. A second mold was made and now there are two more people who can and are making the medallions. These people have found a type of polyurethane that is lighter than cement. So far the medallions have never broken in transit. Anyone interested in having a reproduction can write to us and we will provide contact information.
Medallions made with cement by Guy Brooke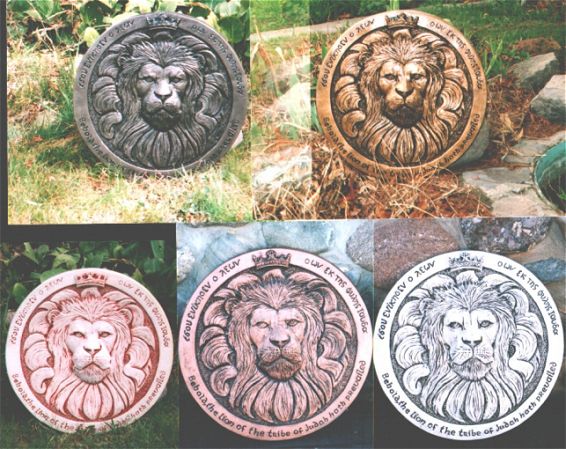 Silver and Gold I have none!
Recently (March 2011) we took another step of faith and obedience. Something sparked within me when a guest said that my high calling is to acquaint folks with Jesus as both the Lion of Judah and the Lamb of God. To know Him completely, she said, we must know Him as both and invite him into our lives as both Lion and Lamb. She said this would be a better legacy for me to leave than silver or gold. I was "hooked" the moment Laura spoke those words; for I had contemplated those same words for many years. Together with a few friends we committed our resources and then some to create the medallion and also wrote a companion story which you may want to read by going to this web page: My Legacy.
Two people who heard about the project gave us their heirloom coins to help us. Vickie gave us the silver dollar that her Dad gave her; and Laura gave us a twenty dollar heirloom gold coin she received from her Mother. They are pictured here. Jesus, please bless their giving hearts.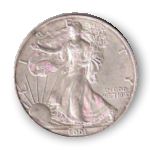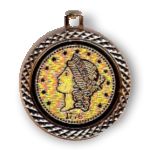 In lieu of silver and gold we are now leaving a trail of these pocket size medallions wherever God takes us. The Holy Spirit shows us who they are to be given to and when. The purpose of these gifts is to acquaint more Believers with Jesus as both the Lion of Judah and the Lamb of God and also to honor, encourage, bless and commission those who are to be part of God's end-time army.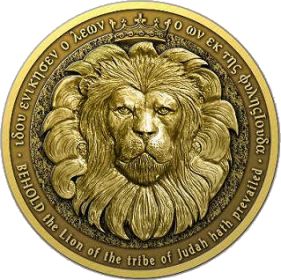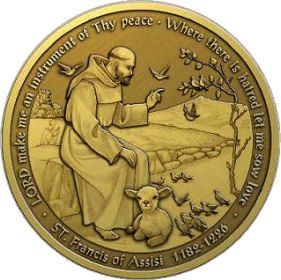 A few folks have already wondered why we put the image of St. Francis of Assisi on the reverse side of the medallion in lieu of a picture of the Lamb of God? There are many reasons we have done this. It would take a book to explain these reasons; and then only a handful of folks would probably be able to follow my reasoning because these kinds of things can never be apprehended with only a reasoning mind. The heart has to be in charge.

I have been shown by the Holy Spirit that St. Francis of Assisi portrayed Jesus as the Lamb of God more completely than any historical figure I am aware of. Those who are not acquainted with this Saint can rent the movie: "Brother Sun and Sister Moon" and or read delightful anecdotes of him and his disciples. The name of the book in which they are recorded is called "The Little Flowers of St. Francis." My Mother would read these stories to me when I was a child; and that's the reason I tried to model the first part of my life after this beloved Saint. Many are acquainted with the prayer, "Lord, make me an instrument of Thy peace" that is attributed to St. Francis of Assisi. For those who are not, reading it will be a delightful and maybe even life-challenging experience.

Well, folks, I hope you have enjoyed this picture story of "The Lion of Judah" medallion. And if you have, drop us a line or knock on our door. There might be a surprise waiting for all of us. We celebrate Christmas all year long in our home.

As a matter of interest, our friend Kathy, who also helps to keep our home clean, loves the Lion of Judah medallion. When she showed it to the owner of a school where she teaches Taekwondo, he adopted it as the merit badge for his students.

Peter Laue
965 Cloud Cap Ave.
Pagosa Springs, Colorado 81147
Snap dragons and the Lion of Judah medallion – first casting