Doctor Martín Israel & Pistachio Nuts
November 25, 2014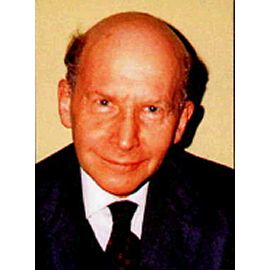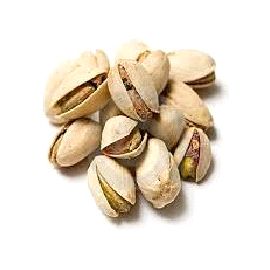 Rebekah hugged me, kissed me good-bye and said, "I love you"; then she drove off to spend time with a best friend. We had been walking hand in hand for over forty years, nevertheless I felt abandoned, rejected, desolate.

I felt a similar foreboding before leaving for Israel in 2005. It was as if Jesus was being rejected when I spoke over Jerusalem to an invisible audience on Wednesday morning, September 21. Yes, Jesus in Peter was rejected. You can read what happened in "The Stone Table at Maagan".

Jesus asked his three closest disciples to watch and pray while He was agonizing over a lost world in the Garden of Gethsemane. He asked them to pray while he was travailing; but they fell asleep. He wrestled alone - filled with an unknown anguish and dread that put his life and mission into jeopardy. That's how I felt after Rebekah drove off. I had to wrestle alone, consumed by an unknown dread. Maybe someone reading these words can relate?

Rebekah could not and was not supposed to fathom the depth of my anguish as she drove off with a happy smile. She had no idea that Jesus wanted to reach into the very depth of her husband's soul while she was away. He wanted to rearrange some of his priorities and expose many prejudices - maybe all of them? He also wanted to enlarge his heart so that he would be more aware and sensitive to the emotional and mental anguish of others, especially those who had experienced a great loss.

The only way He could perform this excruciatingly painful surgery was to remove Peter's support - his steady and stable companion and handmaiden Rebekah. It's the only way He could remind him that He, Jesus, is to be his only support, the only one who earned the right to say to Peter and everyone else, "Lo, I am with you always." He wanted to prepare Peter for that day and hour that will surely come when everything around us will fall apart except His promises. He did not want Peter to wimp out at the very end and deny that he knew his Lord, his God and his Savior. He wanted to expose and cleanse the fear of man out of his soul - all of it!

Rebekah is back. My aloneness and anguish was temporary, yet long enough to make an indelible and lasting impression. The Holy Spirit showed me a ton of prejudices which I had ignorantly adopted from the culture and country where I was raised. These prejudices had alienated me from many of my forever family. I had to do a lot of housekeeping. Here is what happened that cleansed and renewed my heart and unscrambled my mind and emotions.

I could not easily escape from our home while Rebekah was gone; neither did I try. Ever since we were married, we have made do with one car. That was seldom a problem, even when one of us was gone for a longer period of time. In case of a dire need, friends would run errands for us or take us where we needed to go.

I felt compelled to stay put while Rebekah was away. I only left the house one time to have lunch with my very safe friend Leo. I stayed in my robe and pajamas most of the time. I rarely used the phone. I silenced it for many hours. I did not want to talk to anyone. I did not want anyone to talk to me. Every time I turned on the television I was either annoyed or bored to tears. I shuttled between the kitchen, the bedroom and the bathroom for two weeks. I did do some yard work - mulching the aspen leaves that needed to be shredded. That helped a little to diffuse my anguish and distress. My days turned into nights and my nights into days.

I decided to deal with some clutter that had accumulated on my work table. I was ready to toss a bunch of papers - seventy-eight pages to be exact - that had taken up valuable space for the past eight years. But before doing so, I glanced at one of the pages, then felt compelled to read on.

Friend Carlos had called my attention to an author by the name of Martin Israel. Apparently at that time I felt that this English author, both a doctor and a priest, had written something of merit and downloaded his book, "Precarious Living." I do not recall ever reading it. But if I did, I could not remember what it was about. I started to read the book and marveled - just what I needed to keep me on this side of sanity.

After reading the hard copy of "Precarious Living", I stumbled across all the other books he had written and made available at no charge via his web site. Our children had gifted us with a laptop computer so that I could read the books sitting up in bed. I read for a few hours and then slept for a few hours. I prepared simple meals and ate most of them in bed. Bed was the only safe place for me. I felt very fragile. I did not want anyone to touch me, call me, or knock on the door. I did not have the strength to listen or to talk to another human being. My only regular daily exercise was walking to the mailbox.

I became well acquainted with the author. I learned that he and I have a lot in common. He also knew the agony and ecstasy of knowing and following Jesus. It felt as if he was sitting next to me on the bed, holding my hand and speaking gently and reassuringly into my life. He was born in South Africa and was educated in England. He died in 2007 at the age of eighty. He is a man after my own heart. I guardedly recommend him and his writings because I want others to love and respect him as I do. Since he is English, some of the vernacular and spelling might seem a little strange. I don't know if I would have made it, if I had not been shown that pain can be a friend, teacher and catalyst for healing. He was just what I needed to explain my turmoil and challenge me to keep going. His writings were medicine for my bruised soul and tortured mind.

But what about those pistachio nuts? Why were they a part of my healing and a comfort food? Our friend Wanda had surprised us a few months earlier with a three-pound bag of the nuts - a very generous and unexpected gift. We put them in the freezer, wondering if we would ever eat all of them. We love pistachio nuts but three pounds was a little over the top, we thought. But they surely came in handy. Only a handful are left.

I had not smoked for over forty years, but my nervous fingers still kept reaching for something to do, to fiddle with. Between holding a cup of coffee in my hand and opening pistachio nuts, my fingers kept busy. I put the empty shells into the same dish together with the unopened nuts. Sooner or later there were more empty shells than nuts. Finding and fishing for that last nut became a game and a challenge. All of this helped so that I would not go "nuts", a real fear when the Holy Spirit is scraping the crud out of a soul and your life is being rearranged.

By the grace of God I am well again, stronger and more focused than before Rebekah left. I am raring to go! I am fiercely determined to finish the race and bring glory to God. My way of thanking God is by broadcasting the name of Martin Israel around the globe. This man is very close to the heart of God and mine. The books he has written cover a wide range of subjects and will meet you at the point of your most urgent need. We invite you to ask us, Peter & Rebekah, for a summary of his writings which includes forewords and prologues. The medicine for our souls may be free, but at times it may be hard to swallow. I am glad I swallowed it!

Thank you for hearing my heart. Thank you for responding and baring your heart.


Dear Peter,

About two years ago I called and emailed about my son.  On November 13 he walked into a fast food place totally on fire. He made national news. A week later he died of burns to 90% of his body. Tomorrow we will have his funeral. Can you please ask God why schizophrenic people do not get healed even after praying so long? Can God tell me my son is with the Lord? I AM SO SAD AND CONFUSED. Another son is aimlessly walking the streets of a large city.


Peter & Rebekah Laue
965 Cloud Cap Ave.
Pagosa Springs, Colorado 81147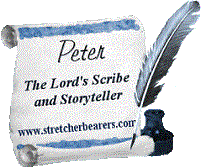 ---


Sitemap | E-mail Peter and Rebekah | Contents


All writings by Peter, the Lord's Scribe and Storyteller and all paintings by Rebekah, the Lord's artist are copyright free.