OUR BACKGROUND
October 4, 2012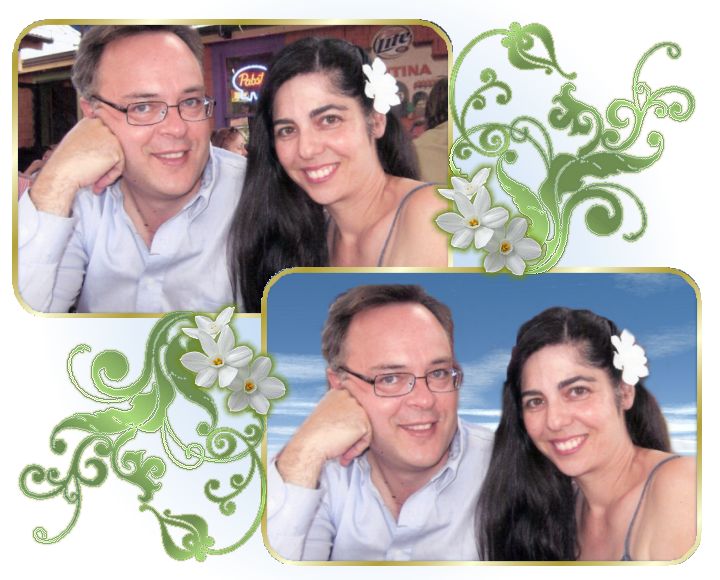 Here is my story. Lot's of folks will be able to relate and apply it to their own life. It's a story that has universal application. I will make it short, to the point and even funny. The punch line is at the end.

The picture of this handsome couple is of our son John and his wife Lisa. They have always given us a tremendous amount of pleasure and five beautiful grandchildren. We thank God for them and love to brag about them. John works for Princes Cruises and gets fantastic perks when it comes to going on cruises.

The picture on the left is the actual picture that was taken. The picture on the right has a new and much better background superimposed on the old one. We asked our web designer to do this at Rebekah's request. Rebekah is Peter's handmaiden.

Rebekah had "bugged" Peter for a number of months to get this done. She kept the picture in full view by his computer monitor so that he would take care of it. The computer is Peter's sandbox; but there are still a lot of things he does not know how to do.

Rebekah always liked the picture but hated the beer advertisements as the "background." Her first marriage was a disaster because her husband, now deceased, was married to a beer bottle. Any time there is any verbal or picture reference to beer, she is immediately traumatized. Peter, her second husband, made sure to never touch Rebekah's wounded soul in this or other areas. He vowed to build happy memories for Rebekah before they got married; and that was nearly forty years ago.




Universal Application of Story



I know very few people who have that perfect track record and do not need any of their "background" erased or white-washed. A perfect track record is to have never done, thought or said anything that soils our soul or alienates us from our heavenly Father or fellow-man. Anyone who believes they are perfect and have never sinned, thinks of themselves more highly than they ought to. The apostle Paul says that this is a "no-no."

But is it really possible to have our sordid background – our past erased and replaced by a clean, wholesome and brand-new background? Yes, it is possible, but Satan does not want us to believe that it is. There is just one basic requirement. It is called – REPENTANCE. The word "repent" is an action verb. It means that we are expected and have to do something. Here is what the dictionary has to say about the word "repent": (1) To turn from sin and dedicate oneself to the amendment of one's life. (2) To feel regret or contrition. To change one's mind, to feel sorrow, regret, or contrition.

Forgiving and asking others we have wounded to forgive us is the key. Unless we do this and mean it, our past will continue to haunt us. And then Satan has the right to torment us. Forgiving is a part of the protocol Jesus set up in the Lord's Prayer which He taught his disciples. The longer we wait, the longer we procrastinate, the harder it becomes to forgive or ask to be forgiven. But here is the good news for all who will humble themselves and do what Jesus taught his disciples: "Come, let's talk this over! says the Lord; no matter how deep the stain of your sins, I can take it out and make you as clean as freshly fallen snow. Even if you are stained as red as crimson, I can make you white as wool! If you will only let me help you, if you will only obey, then I will make you rich! But if you keep on turning your backs and refusing to listen to me, you will be killed by your enemies; I, the Lord, have spoken." (Isaiah 1:18 -20)

Jesus, our Great Intercessor and advocate with the Father, has paid for our sordid and shameful past with His sacrificial blood of atonement so that we can be "squeaky clean" again. But there is an "if" clause: We must first repent and then with God's help, stop doing, saying and thinking what grieves the heart of the Father, wounds the brethren and pollutes our body and soul.

Okay, let's say we have done this; Satan will still try to haunt and taunt us. And he will get away with it if we still believe that what Jesus did was not enough. We, by an act of our own and sovereign will must slam the door to our past and keep it shut. And when we do this, Jesus will come alongside of us and help us keep that door shut. Without His constant help, we will never be able to keep it shut. Satan taunted and tried to trick Jesus until He took His last breath. We must also stay on guard. Satan is a sore loser and will try to take us "down" until we take our last breath.

We all know that old habit patterns are very, very hard to break. Anyone who has ever smoked or taken drugs knows what I am talking about. I used to smoke. But with God's help I have been free of that filthy habit for over forty years. Thank you Jesus; without your help I would still be a smoker.




The Punch Line



Today was garbage day. Every Friday morning a trash truck comes by and picks up everything we have put into the dumpster. After the trash was picked up, a crazy image came to mind. I saw myself running after the trash truck, hailing the driver and asking him to stop. I wanted to once more examine the garbage I had thrown out. How foolish an idea! Inwardly I laughed and saw how stupid and unproductive it would be to revisit my past. Revisiting our past sins and shameful acts that have been covered by the righteousness of Jesus is stupid and makes a mockery of God's grace. We are instructed, even warned not to go there!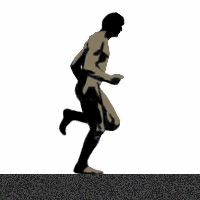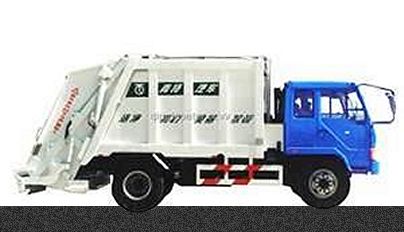 Do drop us a line if this story and these pictures hit home. Feedback encourages this writer to keep on writing.

Peter Laue
Pagosa Springs, Colorado


Peter & Rebekah Laue
Pagosa Springs, Colorado





Sitemap | E-mail Peter and Rebekah | Guestbook


All writings by Peter, the Lord's Scribe and Storyteller and all paintings by Rebekah, the Lord's artist are copyright free.