THAT LAZY RIVER
May 8, 2017


YOU ARE INVITED TO LAZY IN A CANOE ON LAKE PAGOSA OR JUST SIT ON THE BENCH

You may have already heard these words: "Life is uncertain, eat dessert first."



It all started a few months ago as Rebekah and I were listening to T.D. Jakes. He broadcasts snippets of his teachings six days a week. After getting acquainted with him and his unusual style and mostly black audience, the teachers we had listened to in the past were just plain boring.

In one of his recent teachings he highlighted the shepherd boy David and how he slew Goliath. I was so stirred by what he said and how he dramatized this historic event, I picked up my pen a few days later and wrote: Satan Zero--Jesus Won!

Writing this story was a challenging assignment. My pen was drafted as an instrument of war. Nothing else was on my front-burner until I got the job done. D-Day for posting the story on our web site was the day before Easter. The story was to coincide with Easter and Resurrection Sunday. Writing this story was a heady experience. War coursed through my veins. After posting the war story, fear and exhaustion gripped me. And why? – because God asked me to be His whistle blower. He wanted hidden things revealed so that they could be dealt with. Compromise or being politically correct never kills or subdues giants. Negotiating with the powers of darkness does not even make sense.

It seemed every demon in hell was unhappy with me. I felt like a vulnerable little puppy after posting the story. I hid in a cave like Elijah did after he killed Jezebel's four-hundred priests . By now I should know that killing giants or wrestling with demons carries a price tag. I walk on the brink of exhaustion after throwing firebrands into the camp of an enemy. At times I have seen myself as another Gideon. He caused panic in the camp of the Midianites; and he did not even wield a sword. He and his little band of warriors had clay pots, torches and trumpets! I was given a pen and marching orders.

Now that I have set the stage, here comes the essence of this story. Two days after posting Satan Zero--Jesus Won!, I saw myself floating down a lazy river in an inner tube. Yes, at times I do get unusual pictures that have spiritual significance. This one certainly did, at least for me.

As I kept seeing myself floating down that lazy river, my soul was being renewed and strengthened. I started to feel like my old vigorous, confident and joyful self again. All I had to do was to picture myself in that inner tube and the Holy Spirit would wash all over me and strengthen me. Then I decided to share the picture with our web master. She latched onto it and came up with a variety of graphic interpretations. Between the two of us we came up with a number of options until we settled upon the one that is a part of this story. Now, whenever I need a shot in the arm, I look at or just picture the graphics in my mind, and I get happy. At times I even clap my hands.


Our web master has a close friend who suggested adding the song "Up a Lazy River" to the graphics. It's an "oldie". That song takes them over the top for me; and I hope it will do the same for you. If you need a shot in the arm, don't use a needle, a pill, or shot glass, just ponder the graphics and picture yourself in the inner tube. They are bound to put a smile on your face and a bounce in your step.

One day I heard these words in my spirit: When we laugh and clap our hands, the devil can't dance. I have repeated these words to myself and others over and over again. I am laughing. I am clapping my hands and I am praising the Lord. His goodness and mercy is from everlasting to everlasting. I am strong again and am ready for the next battle. War is in my blood; but I also love being deployed as an instrument of peace.

There will be no peace in the land until we kill or subdue every giant, especially those who are stalking us personally such as fear, anger, power, pride and lust. We all have giants that need to be identified and taken out. Why? – we seem to need them to keep us on our toes, alert and in a fighting posture. With God's help we can do this; trying to do this on our own never works.


Sharing my happy with you is my joy and high calling. Thank you for reading my letter. I'll be waiting for you at the river that flows from beneath the Temple of God. Bring your inner tube.

Peter Laue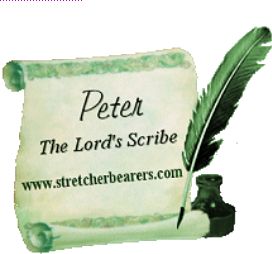 "When a man's ways please the LORD, he maketh even his enemies to be at peace with him."


HOME


"Up a Lazy River" © Hoagie Carmichael
Original Edited for this flash


---
Sitemap | E-mail Peter and Rebekah | Contents


All writings by Peter, the Lord's Scribe and Storyteller and all paintings by Rebekah, the Lord's artist are copyright free.