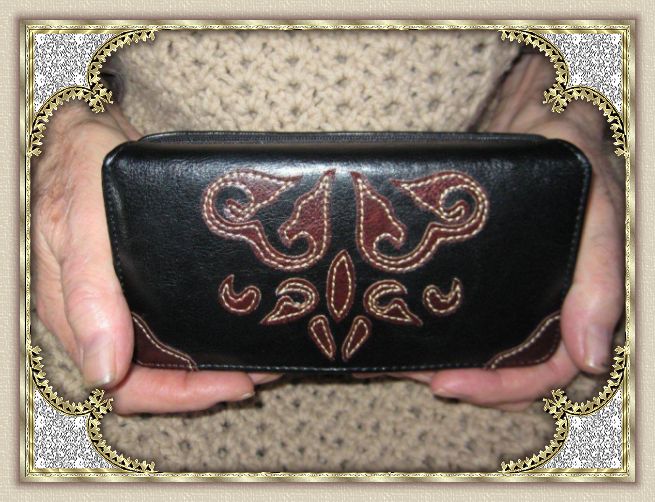 March 16th, 2010
This was a fun story to write. I am pretty sure it will also be a fun story to read and pass on.
It all started on our way back from Phoenix on December 1st, 2009. We had stayed overnight with our friends Dan and Sharon in Flagstaff, ready to get an early start for home the next morning. Pagosa Springs, Colorado is a trip of some 350 miles. And at our age we don't put the pedal to the medal any longer; but we do have to make numerous bathroom pit stops. We also don't like to drive at night when the headlights of oncoming cars look like star bursts.
The first stop was in Cameron on US Highway 89; and that is where the story really begins. We had been told by Sharon that there was a fabulous place to have breakfast in this two gas station town. We did not want to stop to eat; but we both decided it was wisdom to go to the bathroom one more time. Tuba City, the next place with gas stations, was about an hour's drive further.
In supermarkets the dairy products are at the other end of the store. This makes it necessary to walk through the store to get these items. Well, at this unique out of the way fancy pit stop we had to walk through a magnificent gift shop to get to the bathroom. Prices ranged from fifty cent trinkets made in China to 5,000 dollar hand-made Navajo rugs and everything in-between.
After doing what was important and urgent, Rebekah did what all women like to do – she looked. And lo, and behold, she found something she really liked – a wallet. She showed it to me and told me how much she liked it and that the wallet I gave her some 36 years ago was starting to get threadbare.
The leather wallet that caught her eye did not cost an arm and a leg and would be the perfect Christmas present. Finding just the right gift for Rebekah was an answer to prayer. Even though Rebekah already knows what she is getting for Christmas or for her birthday, she still wants me to wrap the present. I usually wait to the last minute to do that. Why, I don't really know? But I always struggle, asking myself, "What can I add to the gift that would delight and surprise Rebekah?"
The answer did not come until two days before Christmas. I was clearing the driveway of a lot of snow – a no brainer activity that allows my thoughts to wander here and there. Suddenly I saw a home-made credit card in my mind's eye that looked something like this: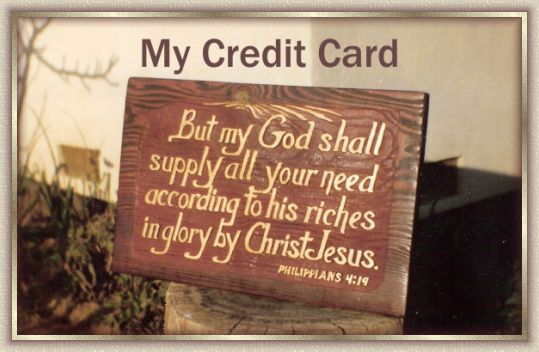 | | |
| --- | --- |
| | As soon I was finished clearing the snow, I went into the house and looked in our Crafts for Christ photo album for a picture of the sign with the words from Philippians 4:19, "My God shall supply all your need according to his riches in glory by Christ Jesus." We had made a number of such sandblasted signs some 30 years ago. This particular one pictured here is made of redwood and is 11" by 18." I found the picture, scanned it into the computer, and formatted it to the approximate size of a credit card. It was fun to do this part. But what shall I put on the back of the card? There was little hesitation – a picture of the two of us – Rebekah and myself. I thought that this |
will both surprise Rebekah and make her happy. But that was only the beginning of what was to happen next.


After supper I was reminded of the many who are wearing financial straight jackets. And then an idea hit me, "I am going to make a few more credit cards and give them to whoever might want one." Instead of placing a picture of Peter & Rebekah on the back, though, I opted for placing the prayer "Lord, make me an instrument of Thy peace" by St. Francis of Assisi on the back. It's a well-known prayer that easily crosses denominational barriers and most international borders. Making these four additional credit cards was fun but also time-consuming. It took all evening; but I had fun doing it. Everybody needs a sandbox to play in; and coming up with something new is my way of playing in my sandbox. I love playing in my "Cradle of New Ideas." That's the byline for our ministry. The back of the original credit cards looked similar to the one pictured here, but not exactly like it.

There are many ways we can demonstrate and distribute the love and Word of God. Making these credit cards and giving them to whoever wanted them became my
obsession. I wrote a short letter announcing the availability of the cards and sent it to nearly everyone in my e-mail address file. If I only had a snail-mail address, I used that. Here is a copy of the letter I mailed to nearly 300 people. I found out later that a few actually made their own credit cards using the picture I included with my letter. That made me extra joyful. I knew I had hit "pay dirt."



These are difficult times for many, including Peter & Rebekah



In order to stay focused and on track, we have made a heavenly credit card that has an unlimited line of credit with zero interest and no annual fees. No one needs to have their credit checked to get one of the cards. They just need to ask for it!  

We took a picture of a sandblasted sign we made many years ago and shaped it into the form of a credit card. If you would like to have one, let us know and we will send it to you via snail mail. If you would like more than one, let us know how many. They are hand-made so don't ask for too many. We have also included a picture of the sign that will let you make your own credit card and put whatever you like on the back. The back of ours will have a nice surprise for you. We have made some 60 or so credit cards so far. We love making them and giving them away. Everyone who has seen one has loved it. Everyone in Rebekah's Bible study wanted one. The heavenly credit card has put lots of smiles on folks' faces.



 

The response to the letter was immediate and heart-warming. In fact, the response was so large, that I knew I could not match the demand if I continued to make the cards by hand. Here are a few letters requesting one or more of these hand-made, heavenly, and out of this world credit cards:


OH, Peter! You are really on to something here. I love it. I bet if you could find someone to mass produce them, you could market them easily. (NO, NO, NO, I can't do it that way!). I KNOW I would buy at least 50 to 100. In the mean time, send me 5 or so (don't want to be greedy) and I will certainly share with 4 of my "specially selected" brothers and/or sisters.
The very best of God's blessings to you and Rebekah. My oh my; aren't we living some exciting times?
Bob Crabb


After receiving the cards, Bob responded with these words:

Thanks so much for sending the "credit cards." I have had so much fun handing them out. Our planet is in dire straights. But we know Who is in control. It is evident that we are living in the beginning of the end of times, but it is biblical and God still sits on the throne!
May His blessings on you be plentiful and your days be filled with joy and peace.
Robert L. Crabb





Yes, Peter, I will take one or as many as you can spare. One is great, but many is greater. (for other family members and friends.)  Give my regards to Rebekah. We will get the gang together real soon, OK?
Darlene Gallegos




 
Please send us 8 of the credit cards.  I would like to give everyone on our prayer team one of them. We meet every Monday night to pray for our great USA. We are part of Faye Hardin's Intercessors with Insight.  In 1999, God spoke to her to organize prayer teams across America to pray for America.  God has blessed her and now she has teams all over the USA and still growing.   I will send you a love offering to help pay for the postage etc. for the credit cards. 
Shalom,
Teenie





 


I would like one of your credit cards that is backed by His Riches in Glory. I trust that there are no annual fees.
Thank you, 
Carol





Peter, what an awesome thing for you guys to do. Judy and I would love to have a couple if that's not too many.

Thank you,
Gary & Judy Waples


I contacted our friend Jim Henely, the owner of Colorquest in Durango, Colorado and asked him if he could print a whole bunch of the cards for us. Jim Henely has been doing all of our printing since 1997. Rebekah has often jokingly said, "Peter, you have printer's ink for blood."

Jim Henely is not only our preferred source for our printing needs; he is also a very close friend. When I showed Jim "My Credit Card", my enthusiasm sparked something deep and generous in him. He offered to partner with us in this project even though he is also being s-t-r e-t-c-h-e-d trying to make ends meet. Yes, Jim printed a "big bunch" of cards that are now waiting to find the just right kind of wallet to travel in. Jim and Colorquest need our prayers at this very moment.

Whoever reads these words and would like to carry one or more in their wallet, let us know. A postage stamp or two would be much appreciated with your request. Our mailing address is at the end of this letter. We printed two versions of the card. One of them has the prayer of St. Francis on the reverse side. The other one has a picture of a sandblasted sign titled "My Beloved Son." If you click on the sign, it will direct you to our web site. We made this sign many years ago. It is sculpted on a piece of red, aromatic cedar. You are welcome to have one of each or some of each. Don't be timid when asking for them. They are guaranteed to produce lots of smiles and questions, like, "Wow, that's a new one, where did you get it?" A question like that gives Jesus "a foot in the door."

I am motivated! I am compelled to do whatever I can to help people live without fear. There are untold kinds of fear. The fear of lack, the fear of being evicted from a home or apartment or having our car repossessed is only one of them. I have had to wrestle hard and long with the giant called "fear" – years and years. The only solution that has worked for me is to trust and obey God and His Word all the time. I offer you His Word; I offer you His Word; I offer you His Word. It is the best and most precious gift I can offer you. I offer you the compassion I have acquired through many years of personal struggles in this area. I also offer you the fierce warring spirit of a crusader that has been birthed into me. Fear is a spirit and can never be subdued with more money, mortgage free homes, paid off credit cards or seemingly secure jobs.

Several years ago I asked our artist friend Tania to draw for us a provocative picture that would help to wake us up and shake us up when it comes to using credit cards. Credit card debts cause us to serve a modern day Egyptian task master. From the beginning of time, the borrower has been the slave and prisoner of the lender. With the help of God it is possible to break that vicious cycle of enslavement. Let's go to war and borrow no more. If you click on the picture, you will be able to read a companion story I wrote a while ago. The link is embedded in the picture.

The world is not "broke," it is "broken." My God can fix anything and anyone. He fixed me!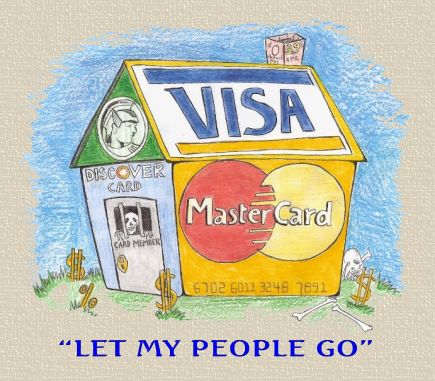 Click Image Above

Peter & Rebekah Laue
965 Cloud Cap Ave
Pagosa Springs, Colorado 81147, USA