It began at Boss Hog on Friday, May 21. Bart Burnett, Glenn Shaffer - a very good friend and sign maker from Denver, and Peter Laue were enjoying the Friday special, "CATFISH." Everyone was just about done when Glenn popped out with these words, "A wave is going to wash over Pagosa Springs." When Peter heard the word "WAVE," he knew that Glenn meant a spiritual wave. Peter suggested, "Let's ask Jesus for a spiritual tsunami to wash over the city and all of Archuleta County. So, Bart, Glenn and Peter held hands at Boss Hog and asked God to grace and visit the community with a supernatural wave of His presence. Everyone was of one accord. It was a strong prayer. Boss Hog suddenly became an open portal between heaven and earth.
Shortly thereafter Bart went on his way and Glenn and Peter visited Bob and Dawn Klein at "The Floured Apron" next door to Boss Hog. Glenn walked around and spotted the May 1, 2010 edition of "The Pagosa Post." The front cover of the magazine had a picture of a huge Tsunami like wave. Well, that was confirmation that we had apprehended what God has in store for this area. But there is more.
The next day toward evening Danna Laverty stopped by at Peter & Rebekah's place on Cloud Cap Avenue. As Peter was telling her what had happened at Boss Hog, Danna got that glimmer in her eyes. She picked up her cell phone and text a message to her friend Chris Bowden in Hawaii asking if she could bring a surfboard when she came in September. Chris's husband is an avid surfer. Danna and Peter were on a roll that evening; all they could talk about was catching spiritual waves and surfing them. Danna finally left for home around 10:00 PM.
The next day around noon Danna called Peter, "I would like to stop by." Usually Danna doesn't call ahead; she just comes by. So, that was a little out of the norm for Danna. She is very spontaneous, magnificently lead by the Holy Spirit who prompts her to show up when and where no one expects her. A few minutes later she pulls into the driveway at 965 Cloud Cap Avenue, unloading this huge 10 foot surfboard that Brock Gorman gave her for Peter and Rebekah. What an awesome gift and surprise that was! Thank you Brock.
Danna's two boys, Jesse and Caleb were with her. Before we got settled inside the house the surfboard was positioned in a choice place at the left-hand side of the garage. Rebekah took a picture with Danna's cell phone camera and Danna immediately sent it on into Peter's e-mail letter box. Peter spent the rest of the afternoon playing in his sandbox - editing some pivotal words into the picture. He also took some liberties with the front cover of "The Pagosa Post" to announce that Pagosa Springs was being graced with a strong wave of God's presence. You see, Peter & Rebekah have been asking for many years for this to happen. And yes, it is now happening.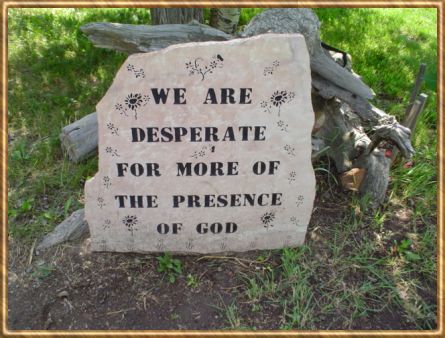 Anyone wishing to get further details is invited to come by and catch that spiritual wave. Surely there must be others who have already seen, experienced and caught a ride on it as it is washing over and through Pagosa Springs. All spiritual surfers are invited to check out what is happening here on Cloud Cap. Danna, Jesse, and Caleb will have their own version of what happened. Do ask them. Bill Hudson is the publisher of "The Pagosa Post." Bill, we hope you don't mind that we took a whole bunch of liberties with the front cover of your publication. You can see that this writer is an amateur when it comes to Adobe Photo Shop, otherwise he would have constructed his own front page from scratch. If you want to get a story for your magazine, we would love for you to come by.