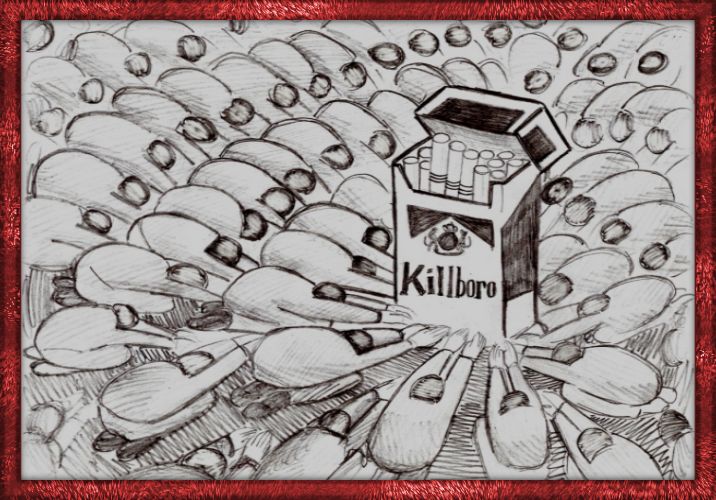 | | |
| --- | --- |
| Today I shall kill Goliath. Today I am making the clear-cut decision to trash the rest of my cigarettes. I shall no longer defile my body and gamble with my life. Today I shall announce my decision to those who have been praying and weeping over this prisoner of Satan. I shall now hurl the Truth – Jesus – at Goliath. It shall expose and defeat him. Today I shall strap on my killer boots and put Goliath under my feet. Today I declare that his power over me is null and void. Today the choke collar around my throat is torn asunder. I shall never wear it again. Today, as I crush my last cigarette, I strip Goliath of all his powers. Today I declare war. Today I shall arise out of the ashes of my addictions and afflictions and live unshackled and victoriously. I shall not only crush my last cigarette; but at the same time I shall crush an industry that has tried to exploit and bury me and my friends. As I crushed my last cigarette, the demon of addiction lost his parasitic hold on me. I am now sending him into the pit of hell where he | |
belongs. I will not send him into a herd of pigs first, but straight to hell. Yes, make no mistake of it; heaven and hell are two very real and permanent places. Heaven is reserved for overcomers and repentant addicts. Whether we are aware of it or not, every person is addicted to something and needs Jesus.

I shall show no mercy as Goliath screams for another cigarette. I shall not bargain with him. My heart is resolute. I am announcing and pronouncing his death sentence as I proclaim these words. I will read them again and again until they become my own. The moment I stopped "puffin" and meant it, Goliath was squirming under my feet with terror in his eyes. I shall be on guard and not allow him to suggest a substitute like chewing tobacco or drugs of any kind to satisfy my misguided, disgusting, and perverted cravings. I shall no longer be jerked around, dumbed out, or kept broke by stupid, expensive, and deadly habits!
| | |
| --- | --- |
| | Today I declare war on an industry that has tried to destroy my soul and has robbed me, my children, and my friends of both health and wealth. For many years I was its prisoner and tithed to it. I am writing these words because I want you to live and live in good health. Today I declare, "I shall not die, but live and declare the glory of God" (Ps. 118:17). Today I am joining an army of ex-addicts. Starting today I shall accumulate a legacy of victories that my children and grand-children shall inherit. Today I declare, announce and proclaim that I would rather die than kow tow to or be enslaved by another cigarette. I shall no longer be a wimp and be ruled by this foul and deadly habit. I shall arise and be that dreaded champion in my King's army. I shall take a stand and take back the land that the enemy has possessed and controlled (Deut. 1:8). I shall recapture the health, wealth, |
vitality and dignity that the enemy has stolen. I am making it my high calling to set other prisoners free that are enslaved by cigarettes and other foul habits. I shall not lord it over anyone who is still a prisoner of Satan. I shall extend God's grace to those who have failed and weep over their broken promises. Like the shepherd boy David, I shall be fierce and uncompromising when addressing that uncircumcised Philistine who mocked the living God of Abraham, Isaac, and Jacob and my God (I Samuel 17:45-51). "No weapon formed against this soldier and his comrades shall prosper" (Isaiah 54:17).

As I go forth from this new day, I have the victory in hand because Jesus is now my Commander-in-Chief, not the lust of my flesh, peer pressure or the fear of man. Ex-addicts make the fiercest fighters. I am one of them. I have switched sides. I know the game. I played my heart out, but one day realized that I played for the wrong side. Only because of God's grace and mercy do I now know that I was tricked and had joined the devil's team. I shall not be cocky, proud or careless as I enter the arena and face my opponent. I know the tricks of the enemy. I hate who he is and how he operates. Fearless warriors know their God and know their enemy. Today I have chosen to be one of the Lord's warriors! I declare that I would rather die in battle than fail Jesus, my Captain, or my comrades. I would rather die in battle than surrender to another cigarette. There is a deadly and ruthless Goliath in every person's life, often disguised as a benevolent benefactor and cunning serpent.

Every cigarette that remains unsmoked, regardless of the name of the brand, every pack and carton of cigarettes that remains unsold shall bury an enemy that peddles death and disease. Yes, there are only two words the tobacco giants fear – lawsuits and bankruptcy. They do not know the fear of the Lord; but one day, very soon, they will. Ex-addicts can provoke those giants to shake in their boots. Ex-addicts must provoke them. That's their job. I will do my part. No amount of tax on cigarettes can crush the tobacco giants or take away the craving for another cigarette, but God can. He did! He is alive and alive in me. He is alive in every person who has wept over his sins and broken promises and chosen to be a warrior in the King's army. Today I am a "butt" kicker. I am wearing killer boots and am penning killer words! Put them in your own slingshot and hurl them at Goliath.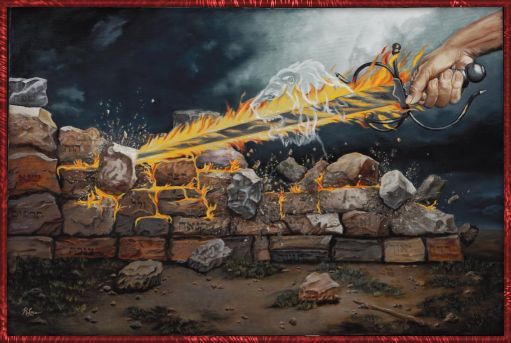 I SHALL TAKE A STAND AND TAKE BACK THE LAND
As I trumpet my hatred for this foul habit to the world around me, smoking shall be viewed as filthy, disgusting, and stupid. Stores that sell cigarettes will be avoided and boycotted in favor of those who have made a clean break and switched sides. Money and profits will no longer be their motivator or priority. The media will no longer dare to glorify smoking. Those who do will lose their audience and rating. Those who are on the Lord's side will refuse to promote this deadly habit and refuse to work for the tobacco giants. Entertainment empires that promote and glamorize sin shall shrivel up if we don't support them. The best way to shut down the gambling empire is not to gamble or buy lottery tickets! It will shrive up real fast!
I have been shown that my body is the temple of the Holy Spirit (I Cor. 3:17). I can no longer defile it. I am now able to hear and obey that still small voice of God again that shows me what is right and what is wrong, what is healthy and what destroys my body and soul. Praise God, his real soldiers are able to hear His voice again! Now they can receive their heavenly marching orders and follow their Commander-in-Chief into battle.

From this day forward I shall no longer "waste my breath." With the help of my God I shall speak life, hope, freedom, and victory wherever I go and to all I meet. My hands and lips will train for war instead of caressing a cigarette. My words and actions shall no longer be wimpy. I shall speak with the voice of a crusader who aims to win. I shall speak with His voice – the voice of compassion, passion, authority, precision, and triumph.
I shall not put anyone down who smokes but will help them up and challenge them to switch sides. I have been summoned to recruit an army of ex-addicts that have the courage to declare war against all giants that mock my God. It is not enough for me to have stopped smoking; I must now help others. I must help them hate what God hates. I must help them prefer freedom over bondage. Helping addicts break the chains of addiction must be and is my high calling. God's army shall be assembled from the scrapheap of humanity. The Good Shepherd found me there. I am spending a lot more time now on scrap heaps looking for treasures. Sooner or later I always find one.

Our testimonies are to be like sharp arrows in His quiver. It is written, "They overcame him (Satan) by the Blood of the Lamb and the word of their testimony (Rev. 12:11)." Today is my day. Today may be your day. Today I am reporting for duty. Cleansed and covered by the Blood of the Lamb, I shall march into hell for a heavenly cause. I don't need an army to march with me into hell, I only need Jesus! We shall make a difference – a big one!


Today I shall become a warrior!
Today I shall follow Jesus!


Peter – Ex-Smoker
The Lord's Scribe


If you'd like a copy of "A Smoker's Prayer",

Please Click Here

The prayer is suitable for any kind of addiction.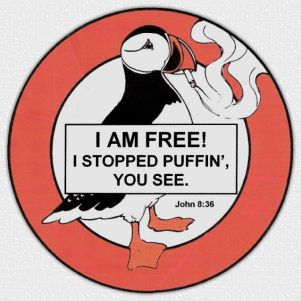 The Final score is in:
Satan: Zero – Jesus: WON!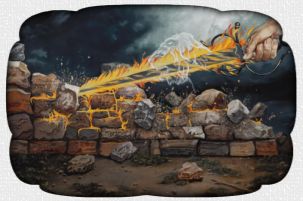 | | | |
| --- | --- | --- |
| | | |