I am going to drop a bombshell on you. Be sure you have your seatbelts securely fastened. This will take you by surprise. In fact, these words from my Commander-in-Chief also took me by surprise.


Here it goes!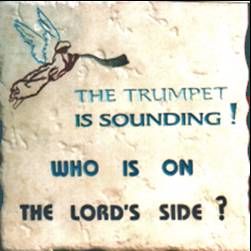 Two weeks ago a friend visited us. He lives in Farmington, New Mexico. You know where that is. Farmington was our point of contact many years ago where you were given one of Rebekah's "The Gates of Hell Shall Not Prevail" pictures. Leona Lewis gave it to you. She is Navajo – quite a gal! She loves Jesus with all of her heart. It was just a simple postcard. God has used that postcard to change many lives.

Eliot is the name of the friend who visited us. He used to own the Farmington newspaper. After he met Jesus and asked Him to be his Lord and Savior, he could not in good conscience continue to be the owner of the paper. The kind of ads he
was asked to include in his newspaper violated everything that Jesus stood for and stands for. He is on fire for the Lord and more radical than most of the people I know. There is nothing lukewarm about Eliot. That blesses me. That blesses Jesus!

Eliot loves to play chess and from time to time has entered major chess tournaments in Las Vegas, Nevada. He goes to Las Vegas with a friend, a pastor who also enjoys playing chess. I have met this man. In fact he brought several young people to our home two years ago to be baptized in Lake Pagosa. The property owners' association said, "No." No one is allowed to swim or get baptized in our lake. As you know, we live right on the lake. Only boating, fishing and wind surfing is permitted. But we got around this restriction by borrowing a horse trough, filling it with water from the lake and then baptizing the young people in it. Some of our man-made laws are ridiculous and have
tiny little loopholes as you can see. We found one of them. This is not important information; but it's fun for me to share with you and show you a picture of the lake. You probably recall having sat on the bench.




| | |
| --- | --- |
| | When Eliot and I get together, we spend several fruitful and enjoyable hours in The Upper Room before going to lunch. Often words pop out that are totally unprovoked and unexpected. Here is what I said to Eliot, "Eliot, every time you and your friend go to Las Vegas to compete in a chess tournament you are tithing to the devil. Every dollar and day you spend in Las Vegas is a tithe to the devil. Every gallon of gas and every cup of coffee you purchase in Las Vegas is a tithe to the devil." These words pierced his heart. He replied, "I will never be able to go to Las Vegas again after hearing these words." As I said earlier, Eliot is radical and took my words to heart. |
Now, here comes the job I have for you. You mentioned yesterday that you will be going to Las Vegas to attend a Women's Aglow conference. I believe you also said you would be a speaker? I know you have a lot of clout with Jesus, but apparently you also have clout with Women's Aglow. I would like you to make use of that clout. In your own way, tell the women what I told Eliot. Every Women's Aglow conference held in Las Vegas is like a tithe to the devil. The city glitters like gold but it is a mockery to our holy God. We cannot sanctify Las Vegas and what it stands for by holding conferences there. Many have tried, but so far it has never worked. It will never work. Our time and tithe will always go down the drain. God has pulled the plug on Las Vegas and all those other places that mix the lust of the flesh, boredom and greed into a deadly cocktail. Let's shift these conferences to where Jesus Christ is honored. In other words, let's boycott filth, perversion, prostitution, pornography, and greed. Help me do that.
I did argue and plead with the Lord for a while. "Do You really want me to take such a strong position about certain cities and the gambling and entertainment world in general?" I asked. "Yes," He replied, "Gambling is a waste of time and money while millions are hungry, hurting, and homeless – lottery tickets and betting on horses are not excluded." And the stock markets around the world are nothing short of sanitized gambling casinos. The Lord reminded me of Sodom and Gomorrah. He said, "Come out, be ye separate. What does righteousness have to do with unrighteousness? Let the dead bury their dead."


There is a strategy to winning this war. One of these strategies is to deprive Satan of our time and tithe. We vote once every four years for a new president; but we vote every day by the way we spend our money. We shall all be held accountable. Yes, in some way we all vote every day!

You are a mighty warrior for the Lord. I count on you to take these words to heart and let them pierce other hearts through you. Jesus has bound these words to my heart and is asking me to bind them to yours. Give that "Power Ball" and its siblings a swift kick!

Go get'm! We need more people like Eliot. This is the Lion of the tribe of Judah in me roaring! He has prevailed.

Peter Laue
The Lord's Scribe