Our father was a gentle poet
Adept at verse and song.
He loved to walk beneath the stars
Praising God all night long.
Our mother was the stronger one
Who ruled both vineyard and house
She always rose with the morning sun
And knew her harvest to the ounce.
Martha was their first born
And by the age of seven
Had adopted our mother's motto
That cleanliness was next to heaven.
Lazarus was a Sickly child;
But still our mother's pride.
For he was the son she promised
When she became a bride.
I came gentle like my father
With hair black as a raven's wing,
I had stars in my eyes
And a song in my heart,
But that song I could not sing.
When our parents died
I tried to hide
But Martha brought us through.
Her strength came from God above
Our strength from her hearty stew
In time Lazarus sat in Bethany's Gate,
His judgment was honest and fair.
He often brought home strangers
Much to Martha's despair.
Then one day our lives were changed
For He came to our house.
He spoke with authority
And I listened,
Crouched at His feet like a mouse.
I just couldn't help Martha serve
I had to heed my heart
He smiled gently when she complained
And said "Mary has chosen the best part."
He became as one of our family.
Our house His resting place.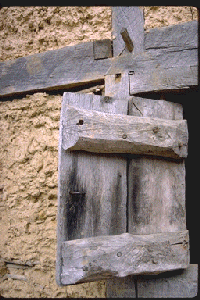 Even Martha was glad to see Him.
Then death came on Lazarus' face.
We sent a servant to find Him
For He had traveled far,
We knew that God would hear Him
And our brother would restore.
We waited and waited...
He didn't come
Lazarus died and our faith fell weak
When He finally arrived
Martha rushed to meet Him,
I just waited for Him to speak
"I AM the Resurrection and the Life,
Do you believe this is true?"
Martha humbly consented,
And to His feet I flew.
He spoke and Lazarus came forth.
The mourners were amazed.
Many Put their faith in Him.
And vowed to mend their ways.
But some ran to the High Priest
With tales and cries of woe.
So the word went Out to kill Him
How they did not know.
Six days before the Passover
Martha prepared a feast,
His disciples came wearily with Him
All in need of rest.
It should have been a time o rejoicing
But my heart was filled with fears.
Suddenly I knelt before Him
Fighting to hold back tears.
I broke the seal of my perfume jar
And poured the fragrance on His feet,
Then dried them with my long black hair
Oh the air was sweet.
How precious was that moment

(Though I was accused of doing wrong)
I anointed Him for His burial
And He released my song.