Welcome Home
April 9, 2016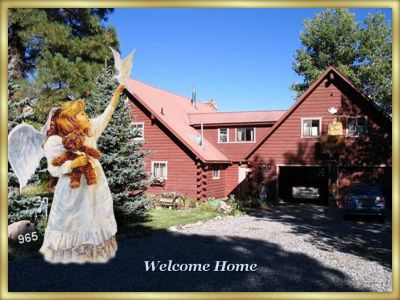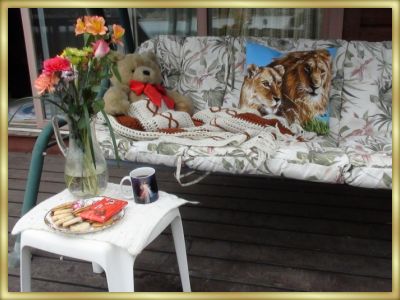 Our children are scattered far and wide. Most of them do not share our last name. Some are no longer wearing an earth suit. Nevertheless, we welcome them all and invite them to sit on our bed and share their heart and heartaches. As yet, not all have responded to our invitation. At times Jesus surprises us and sits on the edge of the bed. A welcoming angel is permanently stationed at the head of our driveway. A porch swing is ready to rock our children and visitors. Jesus is waiting for them 24/7 in the Upper Room. All kinds of books are there waiting to be
read. The book "Severe Mercy" by Sheldon Vanauken has triggered an ocean of private memories and unwept tears. The author was a close friend of C.S. Lewis. Just click on the angel in the driveway and the Rocking Chair of God's heart and a love story will be waiting to welcome you.

Those who have sampled the gift of God's presence in our home have left with forever memories and also deposited new ones. Even those who have met Peter and Rebekah only via pictures and stories at stretcherbearers.com tell us that they have tasted a bit of heaven on earth. One guest spontaneously announced, "This is The Gateway Of Heaven On Earth!" A little later he surprised us with a sandblasted tile with those words. Before leaving, some visitors have
asked if they could call us "Dad and Mom." We are honored and overjoyed whenever that happens.

If these words from Twila Paris's song warm your heart and bring tears to your eyes, Jesus is already waiting for you at 965 Cloud Cap Avenue and so are we, Peter & Rebekah.




The Warrior is a Child

Lately I've been winning battles left and right,
But even warriors can get wounded in the fight.
People say that I'm amazing, strong beyond my years,
But they don't see inside of me: I'm hiding all the tears

Unafraid because his armor is the best
But even soldiers need a quiet place to rest.
People say that I'm amazing, never face retreat.
But they don't see the enemies that lay me at His feet.

Refrain
They don't know that I go running home when I fall down.
They don't know who picks me up when no one is around.
I drop my sword and cry for just awhile.
Because deep inside this armor, the warrior is a child.

*************


And here is just a little about the two people that will greet you at the front door.

It is hard to imagine that next year it will be forty years since Peter and Rebekah moved to Pagosa Springs, Colorado and this beautiful setting on Lake Pagosa. We have both grown old and wrinkled here. Our children are grown and have moved away. It is a place where we were able to heal and start over again. And we did. Maybe one day you will be brought to a place or this place where you can heal and start over again? We must never be afraid to start over again. Abraham and Moses did! This Peter did when he left Germany at 13. This Peter did when he said "Yes" to Jesus at 37. Both Peter and Rebekah started over again when they got married 43 years ago. Oh, what an awesome new beginning that was for both of them – thank you Jesus!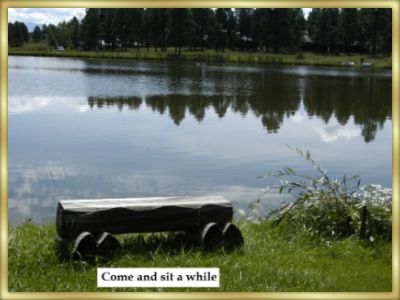 God made himself so very real, present and tangible to us through all the storms that brought us here and kept us here. This is truly a corner of heaven for us and many who have tried out the porch swing and have secluded themselves in the Upper Room. We are so glad we can share this corner of heaven with others. Serving God's soldier-saints is our high calling for now. We also love sharing our war stories with guests. Do you know the name of your humble high calling? We all have one. Maybe it will be shown to you here at 965 Cloud Cap Avenue?

Neither of us would care to redo any season of our life; but we are ever so grateful for all of them because Jesus became a present reality because of them. Both the ups and the downs were tailor-made to help us mature and learn to trust and obey God more completely. And yes, we are still learning! We give Jesus the glory and praise for keeping us safe and not giving up on us. Giving up is not a part of Jesus' nature. Thank you Holy Spirit for making Jesus so real, so personal and so present for Peter and Rebekah and their guests! Some folks weep as they walk through the door and or enter the Upper Room.

Our job and joy is to pray for you, cheer for you and welcome you home this side of heaven. We thank God for placing you in our life. You are a name, not a number in our address book. We thank God for the gift of so many beautiful memories and for Jesus who bonds our hearts. Where would any us be without Him? Lost, confused, lonely and prone to fits of unholy anger.


"My Happy Tree" in our front yard continues to put a big smile on faces. Take a moment and enjoy the story by viewing it on our web site. Lunch is on us if the picture and story does not put a smile on your face.

The day will surely come for all of us that we will lay down our secular tools and hang up our work apron just like Jesus did. Maybe you have already done that? Every season in life has been, is and will be preparation for the next and new season. May your next season be your best season ever. We will all marvel when we look in the rear view mirror of our lives. We will know that each season was God's flawless plan for our redemption, healing and growth. His plans are perfect even though we might not understand them or always agree. Today is the day to say "yes" to every season – past, present and future.

We are all created and called to run our own personal marathon. The marathon is not designed or intended to be a competitive event. So, let's slow down and enjoy the race and those we meet along the way. It's not that we get to the finish line first that matters, but that we help the cripples, rejects and down-and-outers cross the finish line together with us or ahead of us.


The world may as yet be claiming a big portion of our waking hours, but if Jesus owns our hearts, then Jesus is also our Coach and the Holy Spirit is our Helper. Wow – what a setup!

Thank you for reading these words. Let us hear from you. We love you. We hope to meet you sooner or later either here and or over there.



Happy Re-Birth Day and Welcome Home.

Dad & Mom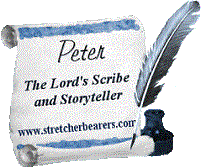 ---


Sitemap | E-mail Peter and Rebekah | Contents


All writings by Peter, the Lord's Scribe and Storyteller and all paintings by Rebekah, the Lord's artist are copyright free.