I forgot to write you about the insurance. Please insure my car. That is a must by law, plus theft and fire insurance. This is the data on the car: 1954 Opel Record, convertible, color is grey with a black top. The horsepower of the car is 40. The motor number is: 1, 5 L-54-43383; the body number is: Cly-53-CZ-103419; the title of the car is in my name. My present license number is: 4C-69687. I am not sure if I have to get New York plates when I arrive in New York or if I can drive the car across the States with my army plates. I also donít know if that makes any difference with the insurance policy. I would like to have the car insured from the 12th of January on. I appreciate your service, Mother.

I am surprised that the money from Bremen has not arrived yet, because von der Heyde wrote me that he has sent off one amount. When I go to Bremen I will speak to Oma. Maybe she will lend me her money and Papa can pay her back when he has his finances straightened out.

Tomorrow morning I am leaving with Renate and Ruth for Pyrmont; and a good friend of mine is riding along too. We are planning to return on Sunday. A week from tomorrow I will drive up to Bremerhaven to finally bring up my car for shipment.

Ruth and I had another delightful evening yesterday. These two weeks went fast for all of us. It will be a day over two weeks that Ruth and Renate and I were together. I will try to get a Monopoly game for her in the shopping center tonight. We played the game once and she loved it a lot. Yesterday we played bingo once more, had a good dinner together and danced. Oh yes, we also went to a one hour movie. If Ruth is in the States, I told her that going to the States is like going into the army. Once you are in the army you donít turn around anymore. She is eager to go, but is only sad now that she has to wait so long. Have you any idea how long the whole works takes?

I see the draft board has not forgotten Hellmut. What classification did he have before he got his 1A-O? 1A-O is a good classification for getting drafted. It means that he is healthy and fit. And the O means that he is a conscientious objector. It is a big shame the two of us did not come in at the same time. We would have been all through with it by now.

I had the whole week a case of tonsillitis. Today it is practically gone. The doctor gave me some medicine which did not help. So I got some penicillin shots which worked wonderfully. If that tonsil of mine is going to act up on me more often, I am going to have the son of the gun taken out.

Thanks about getting the information about ďCortisone.Ē But you know, I would like to know the price although it is only to be gotten by prescription.

Did you send me a money order for the sweater or did you intend for me to take the money I get from Bremen? It is impossible for me to take any of that money, because that is even sixty Marks short of the down-payment I need for the car. When I asked for the $500 I was counting on the 2,100 Marks. Those extra 20 cents add up when you get into the hundred dollars bracket.

I got a beautiful radio for the car now. Really a swell one! I have all the extras now you can get. I sure got good service, too. My friends in Zirndorf always pick up my car and deliver it again. I havenít received my orders yet. Iíll see you later Ė Peter



December 6, 1954
My dear Mother,
This morning I received your letters from the 28th and 30th of November. It was a shock to me, too, to hear that Hellmut was drafted. If it would only affect Hellmut, it would not matter so much; but I see that the whole family is involved, except myself. Well, it canít be helped. Be happy that at least I am coming home soon. Iíll make up to you a part of Hellmutís absence. I knew Hellmut would be drafted. There is no getting away from that; but it was a shock anyway. After he got his 1A-O classification I knew it would be soon that he has to wear the uniform.
Yesterday evening I returned from Bremen. Ruth and Renate went along with me, and my friend Martini, too. We did a lot of driving and had a lot of fun. I was with Ruth and Renate at the American Consulate in Hamburg and got the application for immigration. Ruth is definitely going to the States now. She will send in her application this week yet. Please send to the American Consulate in Hamburg the affidavit of support for her. Only after the Consulate receives that and Ruthís application will the Consulate be able to process the papers. It will take approximately six months for her before she can leave Germany. In Hamburg we also went to the Hamburger Dom (an amusement park) and had a lot of fun there. My friend Martini was very generous and invited Nati to every ride that she wanted to have at the carnival. Martini and I also took a ride up to Bremerhaven for the kick of it; and we took a look at the big boats which will take us back to the States in a few weeks. I will probably not be leaving Germany until the 1st of January. I am expecting my orders any day now. I will let you know when I receive them.
In Bremen I stayed with Barbara (Peterís aunt). She was very nice. Little Barbara looks charming. I also saw Helga and Lilly. We spent an evening together at Barbaraís house. Other guests present were Ruth, Nati, Oma and Martini. Ruth told me the past three weeks we were together were the nicest weeks in ten years. That made me glad.
I talked to von der Heyde about the money. By the way, when I came back from Bremen yesterday I found a letter from the Bank worth 1,200 Marks. The remaining 800 Marks I brought along from Bremen right away. Von der Heyde told me that it was not possible for him to give me the money for the car. He told me that he got 5,000 Marks from Bensheim; of that money I got 2,000 Marks, Lilly gets 1,500 Marks, and there is some money going away for Christmas presents. So there is not much left. So I am not figuring with any more Marks from Bremen. And I would like you to send me the money which I have still left on our joint account.
We will rock the little child gently, Mother. I am full of good spirits and I am bringing a new happy life into the Laue family when I get back. I have learned a lot in the army. I know that through dreaming alone you canít get anywhere. Hard work is important; and I am not afraid of it. But besides that you have to have some fun.
I am really jittery these days. Boy, oh boy, only about 25 days left over here. I canít believe it. Next Wednesday night I am driving to Bremerhaven once more. I am staying overnight at Horstís place. He has a very nice apartment; and I also like his wife. Horst is a good kid.
Let me know as soon as possible what Hellmutís address is. I want to write him a letter. Maybe we will be discharged through the camp where he is stationed and then I can visit him there. I can give him a couple of tips about the army. So long everybody,
Your Son, Peter
P.S. Thanks for the $25. It pulled me out of a ditch Ė a deep one at that.
Dear Mother,
I just received another letter from you from the 1st of December. I have not bought the sweater, but I will do so as soon as I get the money from the bank. I did not realize the $25 were for the sweater. But I would have borrowed the money anyway for a few weeks, because I was practically broke already.
So long for now Ė your Son Peter
I hope Hellmut gets the extension.



December 12, 1954
Dear Mother,
I got back from Bremerhaven at midnight last night. My car is now waiting at the port to be shipped. It will leave Bremerhaven on the 7th of January 1955. It was possible for me to have the car shipped to San Francisco; so thatís what I have done. It will arrive there on the 31st of January. Right around that time I will also be discharged from the Army. And if I get discharged from Fort Ord, I may go up to San Francisco first and pick up the car before I return to Los Angeles.
My orders have not arrived yet. The latest they may ship me back is on the 2nd of January. I really donít care about a couple of days one way or the other. I was drafted on the 2nd of February, and my discharge is about the first of February two years later. If I get discharged before that, it is only due to luck. In about seven weeks I will be back.

I am very happy that Hellmutís request has been granted. In order for the two of us to be together yet, he would have to get an additional thirty days. Let him try to get these thirty days. It is not such a weighty matter with the army if you come in today or tomorrow. I hope that he gets his mine so far now that it will start producing and Papa can take over. About my working up in the mine we will speak about it when I get back. You all know that I have the car to pay for yet and that I canít afford to take a job which will not get me returns.

You have written me that you still have $200 for me on the bank. Would you please , please send me the money. I do not have the time anymore to correspond with you about this. I am leaving the latest in three weeks, and
there is no time for the mail to travel back and forth. The $25 I have received. I have acknowledged the money in a previous letter already as far as I can recall. By now you must also have received the pins. They were mailed by air mail at least ten days ago.

Another thing I want to say about the insurance. Do not have the car insured yet but wait until I let you know. I may do it myself in San Francisco if it does not cost too much delay. You can also give me Sonjaís address in San Francisco; and I will look her up when I am in town. Have you been able to send Ruthís affidavit of support already? I would be interested.

By the way, I had the greatest time on my three-day trip to Bremerhaven. A nurse with the rank of major went along with me. We stopped in Bremen and slept there. You couldnít say that we slept. After driving 13 hours we did not go to bed. The two of us went to the Excelsior and had a gang-bang-slam time. We celebrated all night. Then we slept two hours in the car to sober up, and then we drove up to Bremerhaven. The major picked up her Ď52 Buick and I delivered my car. At about one oíclock Friday we came back from Bremerhaven. In the afternoon I went shopping with the major in Bremen. She bought herself a skirt and sweater so that she would have something decent to wear in the evening. The evening before she wore something from Edith (clothing she borrowed from Horstís wife. Horst is Peterís cousin). Friday evening Horst invited us to the Astoria. You remember Papa, donít you? That was a good night, too. It was close to three when we got bed. At seven I got up again and at nine-thirty we left for Nuremberg. I did all the driving for her, and you can believe that I am still pooped. I even took her into my arms for stretches so she could sleep on my shoulder. I know just what pleases the girls. Itís Sunday afternoon now. I am going to bed again in a few minutes. The major and I both agreed that we were very tired when we got back, but we had a real good time, and that is what counts. The major and I have to go out again. She has the car and I have the looks. That combination makes a grand couple.

So long, Peter

By the way, I wish you all a good Xmas and a Happy New Year. We shall celebrate when I am back.



December 12, 1954
Dear Mother,
I couldnít trust my eyes when I got the letter from the bank that you had sent 3,500 Marks. You had not told me a thing about that. I borrowed the majorís car during lunchtime today and had the money transferred to the bank in Zirndorf, where I owe the money. I am very happy about the sneak attack you played on me. You shall have the money as soon as I have it available. Does Papa know anything about this? Yesterdayís letter is void now about the $200.
Otherwise everything is fine. Yesterday evening I spent a couple of nice hours with the major. Itís a funny thing for me to be going out with a major. This is strictly taboo as far as the army is concerned; so we have to sneak out together as quietly as possible. Next weekend the two of us are planning to visit Munich and look around. I have been having all kinds of luck lately.
I wish you a very nice Christmas, and I am looking forward to see you again soon. How is the rest of the family?
Good-bye, your son Peter



December 15, 1954
CHRISTMAS CARD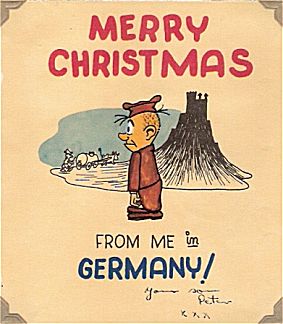 December 22, 1954
Dear Parents,
Do not send me any more mail because it will not reach me any more. I received my orders yesterday. I will be leaving Nuremberg on the 1st of January 1955. I have to be in Bremerhaven on the 2nd of January before 1000 AM. Next week I am sending all my personal things home. If the box gets there before I do, do not open it. I also sent home a guitar last week, which should arrive before I do. I would like you to open that box and find a good place on the wall to hang it up. Be careful when you open the box, because the instrument is squeezed in tight. When I get to New York I will give you a ring. I will be there around the 13th or 14th of January. My orders read that I will be shipped to Fort Ord and released from there. I will also call you from there and find out if Hellmut is drafted already or not. If he is drafted already, I can look him up.
I got your last letter and the enclosed one from Ruth. A turn of events like this was to be expected; but I still know that Ruth wants to come to the States more today than she ever wanted before. Ruth needs a push. She likes fate to do the deciding, instead of deciding herself. Many people have that type of a disposition and especially women. That is why I do not mind and know it is right to do some prodding myself.
Christmas I am going to Schnuphaseís house with Martini for our Christmas dinner. In the evening I will go to the opera with major Giles to see Kavalaria Rusticana and the Bajazzo. On the 26th I am going to Munich. Tomorrow morning will be my last hours of work at the hospital. When you get this letter, I will be leaving for Bremerhaven. I wonder what my room will be like? Papa did some painting, I hear. I am bringing along a few nice knick-knacks to beautify my room. Did I get you a sweater? Donít expect me before the 1st of February.
See you later and happy New Year, folks Ė Peter Ė This will be my last letter until I call you up.
Ship ahoy to California,
Your Son Peter







January 20, 1955

Telegram sent from New York



Peter visited his aunt Ruth Kaplan in Woodmere, Long Island prior to flying to Los Angeles. His uncleís name was Harry. Ruth Kaplan was his Motherís only sibling. She helped her sister immigrate to America in September of 1946 when Peter was 13.

Peter had been given extra travel time and stopped to see his parents in Los Angeles prior to going on to Fort Ord, California where he was discharged. Before leaving for Fort Ord and while in Los Angeles, he enrolled at UCLA where he continued his schooling immediately upon discharge from the army. His schooling had been interrupted by the Korean War after Peter had completed three semesters. He graduated from UCLA in 1957 with a degree in psychology.

This telegram was Peterís last documented communication prior to being discharged from the service on February 8th, 1955.

This file of army correspondence had been faithfully copied and filed in chronological order by his mother Josephine Laue who gave him the letters prior to her death. Peter did not have the emotional strength to review his life as a young soldier until he was 77. It was an eye-opener for him.