* * * * *



This morning as I was remembering my own fears concerning marriage, I saw many others standing on the platform of a train station. They were wavering - wondering if they should get on the train and try again or say "yes" for the first time.

I stood on such a platform some forty years earlier. The pain of divorce, the pain of rejection, the fear of failing God and not hearing Him clearly was haunting me. The train had pulled into the station. The conductor blew his whistle shouting, "All aboard who are coming aboard."

I am surely glad I got aboard back on June 22, 1973. I knew the train would not have waited forever. Next June we are celebrating forty years of an awesome marriage. God has given us many spiritual children. It has not always been easy. By the grace of God we persevered when storms threatened to capsize our little boat. God has been with us all the way although we were not always aware of Him. We obeyed the leading of the Holy Spirit. That's what counts. We made the right decision. We obeyed the voice of the Lord. We said "yes" to the hard stuff right from the start.

All through life there will be other pivotal decisions we have to make. We must not allow the fear of failure or the voice of the world to paralyze or confuse us - no - no! "God has not given us a spirit of fear, but of love, of power and of a sound mind!" When God tells us to do something, we must not ask the world or our neighbors for a second opinion.

Lots of folks are waiting at the train station wondering if they are to step aboard the train for the first, second, third time or not at all. Ask Jesus, He'll tell you. Sometimes the train will come again, sometimes never. When we say "YES" to Jesus, it's like a marriage. It's a marriage. We are stepping on a train that takes us to the Pearly Gates. I know you settled that a long time ago. Good for you. We are on the same train. See you at the Pearly Gate. The apostle Peter will be waiting for you and check your credentials.

Be smart, follow your heart. Be smart, follow Jesus all the time!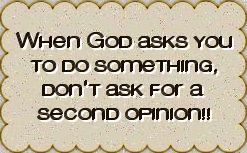 "A LITTLE CHILD SHALL LEAD THEM"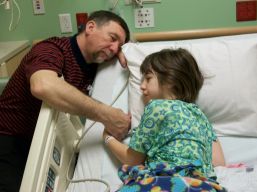 Peter, I have been thinking of you. Been praying for you all weekend...God brought you to mind at 3am Saturday.. :) Michelle
I am currently sitting here at Children's Hospital in Madison, with my daughter. She had a complex jaw surgery today that took 6 hours. There were many people praying for her and us..and I could feel the presence of the Lord. She is nine and a little girl very much in love with Jesus. Her faith astounds me at times. Her favorite thing to do is pray for healing for people..wherever..whenever. We have been praying for healing for her jaw since birth. This is her fourth jaw surgery. She has had an unfailing faith that God was going to heal her jaw. So, as surgery was approaching, she matter of factly said, "Well God is going to heal me..and if it is thru this surgery.. that is how He will do it." For many of us, believing for healing....if it didn't happen the way we wanted..there would be a crisis of faith...but not for this little dynamo.
So, I sit here, in her hospital room, as she and her Daddy sleep, feeling very thankful for so much. ..Here is a small list...the expertise of the hospital, the staff here that obviously love their job, her plastic surgeon..(who is not only skilled but a lovely woman)..her pediatric dentist.(that has been such an advocate for Heather...she came just to observe the surgery..and told Heather that she was so excited about Heathers surgery she couldn't sleep)..I could go..on..and on... But thinking on all these things, made me realize, just how many lives my sweet daughter has touched..at such a young age.
Why am I telling you all this? Well, thru my healing..and continued healing, I can be the mother this very special daughter needs..I can have confidence that I can guide her in her giftings..and in her walk with the Lord. It is so wonderful to be free.. Thanks for your part...in this wonderful life journey.
The first thing Heather said to me when she was awake from anesthesia was.."I love you mommy".. not I am in pain...but, "I love you mommy." I feel incredibly blessed to be the mother to this precious little one. My faith is growing and stretching as I watch her amazing childlike faith in action. It humbles me..and causes me to pray.."Lord let your light shine from me, as it does from my daughter". Amazed that God entrusted us as her parents.. Michelle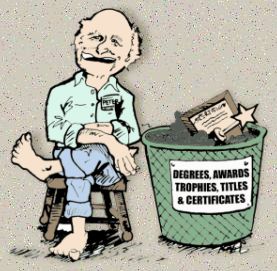 Peter's Nuggets

* * * * *



NORMAL is a word invented by the devil to frustrate and confuse us.

Preoccupation with sickness is a disease.

Satan wears many disguises. He was liquor in liquid form for me. But the Son of God has set me free. (John 8:36). What He has done for me, He wants to do for you. Call upon Him and be free. (Romans 10:13). Raymond Eyetoo, Ute Mountain, Towaco, Colorado.

Jesus has come to set us free, not just to redecorate our prison cells. Bishop M. Marshall

Jesus is our interior decorator.

Our house is built on the foundation of wisdom and understanding. Because of the knowledge, our rooms are furnished with valuable, beautiful things. Proverbs 24:3-4

When we hit rock bottom, we find out what kind of stuff we are made of.

Jesus can turn our scars into stars.

I want you to trust Me in your times of trouble, so I can rescue you and you can give Me glory. The Living Bible, Psalms 50:15

Where there is room in the heart, there is also room in the house.




---
Click Here for
Latest Life Letter
---

HOME | SITEMAP

EMAIL